Lamb cooked in ginger and aromatic spices
I call this particular dish Shaukeeni Gosht as Shaukeen means 'the lover of…..'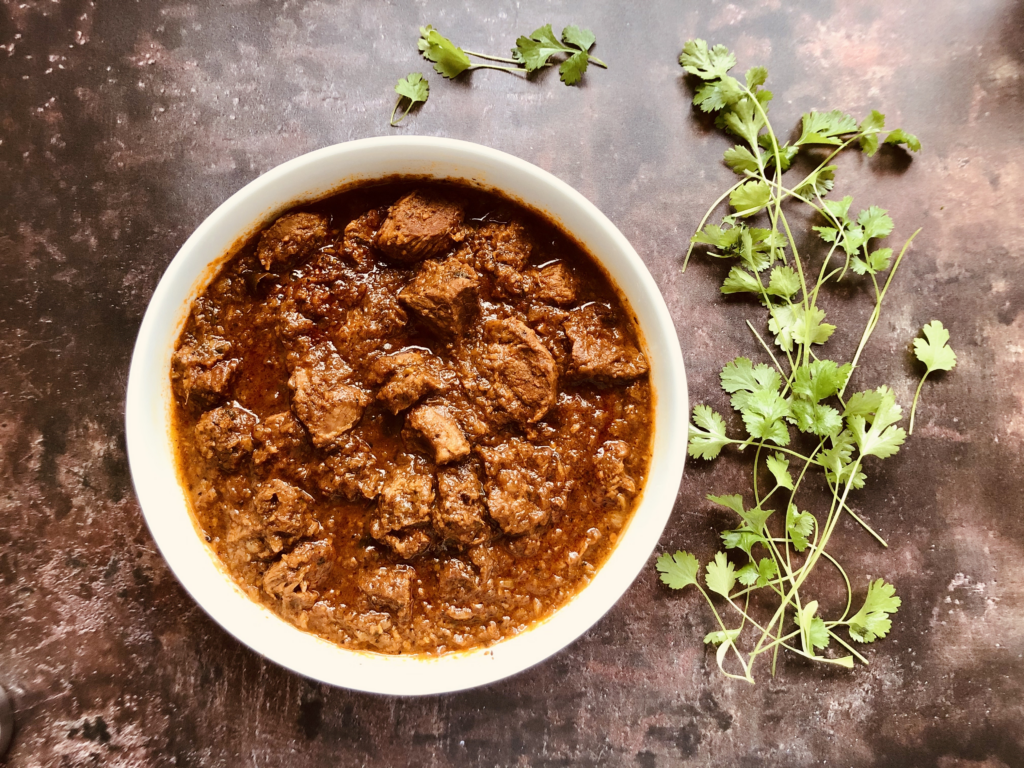 My father in law loved all things that were opulent and luxurious and this dish emulates all that is luxury. It's one of my husband's favourites. He has a very clear memory of travelling through the Punjab with his Mum and Dad back in 1974, when he was just 12 years old and they were waiting at a bus stop in Ambala. The fragrant smells coming from a Dhaba (a road-side pit-stop for bus & truck drivers) tempted them over and they decided to stop for a quick lunch. Food at these Dhabas have a very quick turnover as bus and truck drivers stop there all day for breakfast, lunch & dinner, some are open 24 hours a day. Many travellers get put off by the simplicity of these places, worrying about the possibilities of food poisoning, but these are the places to eat if you want to get a real feel of authentic Punjabi food as they turnover food so quickly there is no opportunity for anything to go bad.
They were tempted by the rich aromas of the lamb that was being cooked in a huge pan, and it was remembered many times after when reminiscing over that trip with Dad – the fiery flavour of it due to it having way too much ginger, the over spicing of the garam masala. However he said all the flavours worked so well together that they were left licking their fingers, wanting for more. Of course it was swimming in ghee, but you'll find that in many Punjabi dishes at dhaba's, restaurants, and Punjabi homes. Back in the day people who were out working the fields all day were able to digest the ghee laden food, however, now in this day and age and living the sedentary lives we do, it would be very unhealthy and not advisable. I try to keep the oil content very low when cooking for my family – most of my dishes are created using no more than a tablespoon of oil. Lamb melts down it's own fat during the cooking process so you don't need to add much to it anyway.
I have tried to recreate that delicious memory for him many a time and over the years and I think I have managed to get it to almost the same as that day back in Ambala.
I make my own Garam Masala for this dish, it's not as subtle as the one for Dal Makhani, it is a lot more intense and fiery (see the separate ingredients for it). I believe this adds to the over-spicing of the dish that actually brings out the amazing flavour of the meat.  Feel free to shake it up a little – play with the ingredients to create your own Shaukeeni Gosht.
Ingredients
1 tbsp oil
1 teaspoon cumin seeds
1 inch cinnamon stick
4 fresh curry leaves or small handful dried ones
1 teaspoon black mustard seeds
2 kilo's of lamb – washed & cubed – keep the bone for additional flavour
3 medium onions finely diced
1 heaped tbsp garlic paste
2 tbsp ginger paste
4 green chillies blended with the tomatoes
400g tin of plum tomatoes – blended
1 teaspoon turmeric
1 teaspoon kashmiri chilli
1 teaspoon salt
For the Garam Masala
3 bay leaves
1 cinnamon stick – about an inch long
1 teaspoon cumin seeds
Half teaspoon black peppercorns
1 teaspoon coriander seeds
2 cloves
Method
Warm the spices in a spice warmer or a non-stick frying pan until the seeds begin to pop and crackle, then grind them into a powder ensuring there are no hard pieces remaining. (See my video – How to make your own Garam Masala).
Method
Heat the oil in a heavy based pan and add the curry leaves and the cumin and mustard seeds, both cardamom and cinnamon stick
Once the seeds start popping add the diced onion and stir well
Saute the onions until they are a rich brown colour – this concentrates their natural sugars giving the sweetness we want for this dish
Once your onions have browned add the garlic and ginger making sure the ingredients don't burn or over cook
Once you can smell the garlic lower the heat and add the turmeric until the mixture becomes sticky
Add the blended tomato and chilli mix and stir well and cook the tomatoes down on a medium heat until the oil starts collecting in little wells
Add the remainder spices and salt and stir into the mixture
Add the meat to the pan and make sure you cover all the pieces with the tomato spice mixture
Lower the heat and cover and cook for 30 minutes checking it every 10 mins
Cook the lamb until the meat is tender and the sauce is thick and sticks to the meat.
Sprinkle on fresh coriander and serve with roti or naan
You can find me on all social media channels under The Authentic Punjabee.
Facebook / Instagram / Tiktok / Youtube