Lamb and potatoes cooked in a tomato and spiced gravy
I think I must have been around 8 years old when I had my first taste of this dish. Dad used to make it when my Uncles came over – and he would serve portions of it in little bowls for the men, before the water was added to create the gravy. They would sit in the front room of the house with their 'glassy' (Whisky shots) eating the meat, and I would love watching Dad get really happy as the evening progressed and they chatted and exchanged stories. The aromas of the Whisky and the Gosht are still a memory that I hold on to really dearly. I was very close to my Dad – I can count on one hand how many times he ever got annoyed with me. He was an extremely special person, loved by all, and he had the kindest and most gentle demeanour, which was surprising considering he had fought in one of the bloodiest battles during World War 2 at Monte Cassino. He never mentioned the war – took those stories to the grave. I can only imagine the horror of some of the experiences he went through.
This dish is in his memory and it's an absolute stunner. I cook it in minimum oil as the lamb will lend its own flavours as the fat melts down during the cooking process. I use a lot of of the warmer and sweeter spices – cinnamon, cardamom and fennel seeds to name a few. Back in the day when Dad was cooking it, it would have been swimming in ghee and he wouldn't add the potatoes. I add potatoes as my husband loves them – so I usually add them for him. (I am sure he has a trace of Irish in him).
So this one is for you Dad x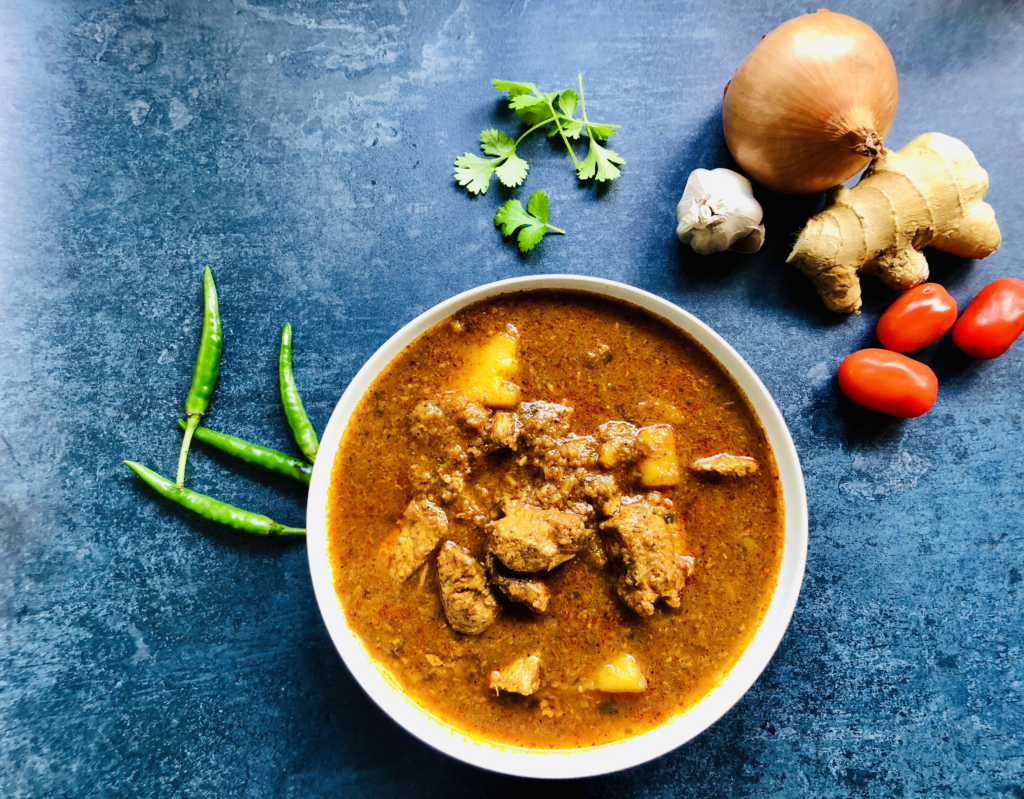 I really put my heart and soul into this dish as I know the rewards I get back are going to be tenfold. It's one I cook when I know I can give it the time and patience it deserves. Ensuring all the ingredients are prepared with much love – cooking the onions really slowly until I get them to the rich, dark, sweet stage and the longer I cook the Tadka, the richer the sauce will be, keeping the bone in the meat really adds to the amazing flavour, making it almost broth-like. I don't finish it with fresh coriander as I feel that gives it a freshness that isn't required. This Gosht needs to stay warm and spicy, and this why I use the coriander seeds and powder instead.
Ingredients – Serves 6
2lbs leg of lamb on the bone cut into cubes (your butcher will do this for you)
2 large onions very finely diced
1 tablespoon of a good cooking oil/ghee/melted butter
1 inch cinnamon stick
5 cloves
2 large bay leaves
1 teaspoon of cumin seeds
1 teaspoon of coriander seeds – roughly ground
Half teaspoon of fennel seeds – roughly ground
Half tablespoon of sugar
1 teaspoon of salt
1 teaspoon turmeric
1 teaspoon garam masala
1 teaspoon dried fenugreek leaves
1 teaspoon red chilli powder – optional
Half teaspoon coriander powder
Ginger and garlic paste – 5 cloves of garlic and 2 inch piece of ginger
1 tin of tomatoes blended with 2 green chillies and a loaded teaspoon of mango pickle stone removed (mango is optional)
Method
Heat the oil in a heavy based pan
Throw in the cumin seeds, cinnamon stick, black & green cardamoms, cloves, bay leaves
Once the cumin seeds start popping add the diced onions
Add the sugar and salt and cook the onions on a medium heat until they caramelize and go a chocolaty dark brown in colour
Add the garlic and ginger paste and give it a quick stir and allow it to cook until you can smell the garlic – once you get that aroma – your garlic is cooked
Add a teaspoon of turmeric and cook for another couple of minutes – the mixture should be a little sticky now. If it sticking to the base of the pan add a splash of water to loosen it up
Stir in the blended tomato, green chilli and pickle mix (if using)
Keep cooking this for around 7 minutes, stirring regularly – lower the heat slightly
Add the coriander and cumin powder and also the red chilli powder and continue cooking
Rub the dried fenugreek between the palms of your hands to release its flavour and add to the pan, you can also now add the coriander and fennel seeds. I usually do this in the Pestle and Mortar
This is your Tadka (base for the dish). Keep cooking until the base releases the oil and it rises to the top and starts to create little wells
Slowly stir in your washed and cleaned pieces of lamb making sure each piece is covered in the sauce
Cover the pan and cook on a low heat for 35 – 45 minutes, stirring every 15 minutes to make sure it's not sticking to the bottom of the pan
What you are looking for is the meat to be cooked but not falling apart so when you get to this stage add the potatoes. Your kitchen should smell like heaven and you will want to load up a plate right now and just devour it. But wait for the end result – trust me – you'll thank me for it
Add the garam masala and cover and cook for another 20 minutes or until the potatoes break when you press them against the side of the pan.
Serve this dish with a Tandoori Roti or Chapatti, you will love it. The meat will be cooked to perfection and the sauce will be thick and full of flavour, I promise you, you'll be wiping that plate clean. I'm looking forward to hearing your feedback on it.
You can find me on all social media channels under The Authentic Punjabee.