Rice cooked with cumin & onions
Jeera Rice is cooked at least twice a week in my home as five out of seven of our evening meals are usually Indian food, so if it's not a roti meal then it's a rice meal. Many people struggle with cooking rice – it can turn out too sticky, under cooked or overcooked, however if you follow my recipe to the letter I can guarantee you will have non-sticky, fluffy, separate grains of rice. Rice can be cooked with spices or you can even have plain boiled rice – however the secret to the perfect rice is how you cook it.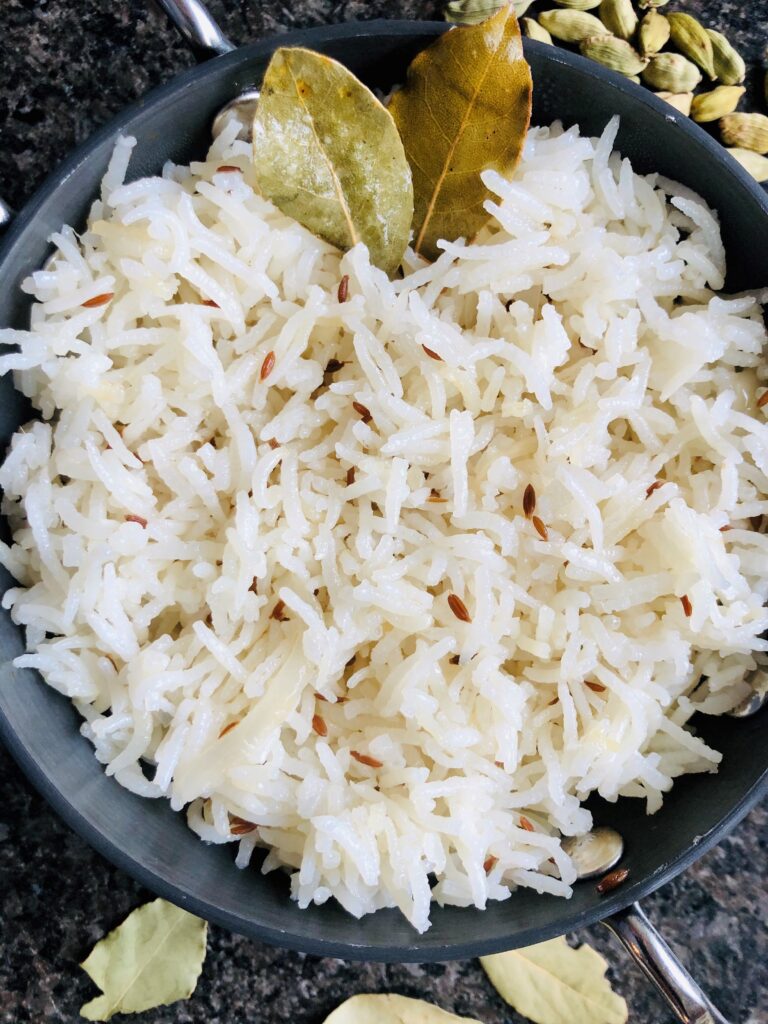 Always soak your rice for at least 30 minutes first before cooking as this helps the rice absorb water, giving it a kick-start to the cooking process. Washing it in 3-4 changes of water washes away a lot of the excess starch that makes it gluey and sticky. Coating every grain with the oil or ghee is important and my favourite tip is not to stir the rice when it's cooking as this also aggravates the starch and can break the grains as they cook. See my method below. I swear by Tilda Basmati rice, as did my mother and mother in law. I have tried many brands to date but have never found a rice that cooks as well as the Tilda brand, guaranteed separate, aromatic, fluffy grains of rice every single time. This is not a paid promotion 😉
Don't forget to follow me on Instagram and Facebook under @the_authentic_punjabee_ for new recipe updates!
Ingredients – Serves 3
2 tablespoons of oil or ghee
1 mug of rice (I use a regular coffee mug) washed
1 small sliced onion
1 teaspoon of cumin seeds
1 teaspoon of salt
3 bay leaves
3 green cardamom pods
2 mugs of boiled water (use the mug you used earlier to measure the rice)
Method
Soak the rice in warm water for min 30 minutes then drain and wash in 3-4 changes of water
Heat the oil in a heavy based pan on a low heat and sprinkle in the cumin seeds
Add the onions to the pan as soon as the seeds start spluttering
Fry the onions until translucent then add the washed rice and carefully stirring into the oil ensuring every grain is covered
Now add two cups of boiled water and throw in the bay leaves, salt and cardamom if using, and turn the heat up until the water begins to boil
Once it comes to a rolling boil, turn the heat down as low as you can and cover the pan
Let the rice cook for 10 minutes – DO NOT STIR
After the time has lapsed – check the rice by taking a grain between your thumb and forefinger and crush it, if it breaks into 3 pieces your rice has cooked and is ready. Alternatively have a taste – you'll know when it is cooked – if undercooked it needs another few minutes