Cauliflower & Potatoes cooked in a spicy gravy
Masala Gobi is the alternative to Aloo Gobi as it is cooked in a thick gravy which goes well with rice as well as roti. It is an exceptionally tasty dish as the vegetables soak up all the flavours of the sauce. The ingredients are cooked slightly longer than Aloo Gobi making it a lot creamier too. Give it a go – it's a personal favorite.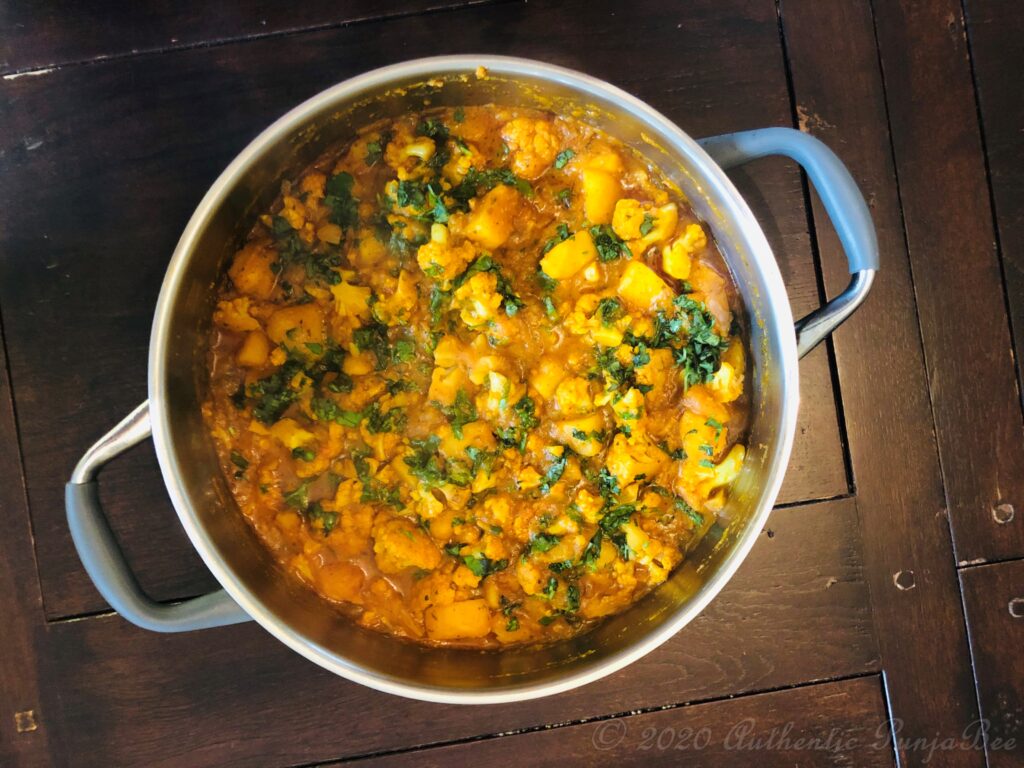 Ingredients – Feeds 5
2 tablespoons of oil or ghee
6 banana shallots or 1 large onion roughly chopped
1 tsp cumin seeds
1 tsp crushed coriander seeds
Half tsp mustard seeds (optional)
1 tbsp garlic paste
2 tbsp ginger paste
1 tsp turmeric
2 heaped tbsp of tomato puree or half a 400g tin of tomatoes
1 tsp dried fenugreek leaves
Minced green chillies to your taste
1 tbsp coriander stalks
1 tsp coriander powder
1 tsp kashmiri chilli
1 tsp achari masala
Salt to taste
Juice of half a lemon
1 measuring cup of boiled water
1 medium sized cauliflower cut into small florets
2 medium potatoes, cut into cubes
Handful of fresh coriander leaves, chopped
Method
Warm the oil and add the cumin, coriander and mustard seeds
Allow to sizzle on a low heat for a minute
Add the chopped onions when the seeds begin to sizzle and pop
Sauté the onion for 5-6 minutes until translucent and then add the garlic and ginger
Continue sautéing the ingredients for a further 2-3 minutes then add the turmeric powder
Lower the heat and add the tomato puree and green chillies
Saute the mixture for a couple of minutes then add the coriander powder, kashmiri chilli, dried fenugreek, achari masala if using and salt, continue sautéing for a further 5-6 minutes
Once the oil comes to the surface add the lemon juice and the water and then add the potatoes and coat with the mixture
Cover the pan and cook on a low heat for 15 minutes, making sure they don't stick to the pan
After 15 minutes add the cauliflower florets and cover and cook for a further 15 minutes or until all ingredients are cooked through
Sprinkle on the chopped coriander and serve with roti or rice
You can find me on all social media channels under The Authentic Punjabee.
Facebook / Instagram / Tiktok / Youtube
©2020 Bee Gill Authentic PunjaBee Cooking