Roti stuffed with white radish and potato filling
Sunday Brunch is usually Paratha in my home. There are many varieties but Aloo and Mooli Aloo are the most popular. You can even fill them with left over food as well, such as Aloo Gobi or even Keema goes really well in these. I am sure some of you can already guess why I have potato mixed in with the white radish (my husband has to have it in everything). Most people make this bread with just the white radish – however adding the potato does mix it up a bit. They are absolutely scrumptious – hot or cold – and as they take a little bit of time to prepare, I always make them in advance, part cook them without brushing them with oil and then when the family is ready to sit down together I then re-warm them, and this time crispen them up by brushing them with oil.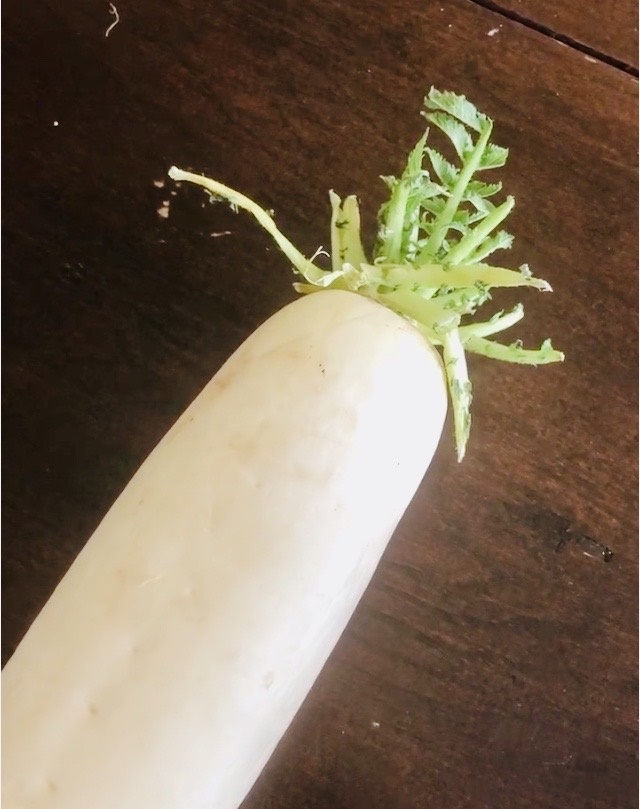 They make the perfect lunch, serve them with a knob of melting butter, some pickle and Dahi (yoghurt) and a nice cup of Masala Cha to wash them down.
Ingredients – Makes 12 Parathas
Filling
1 medium mooli peeled and grated (roughly 10inches)
1 large potato peeled and grated
1 large onion diced
1 tablespoon minced ginger
2 teaspoons minced chillies
1 teaspoon of dried fenugreek OR                                           
Small handful fresh fenugreek and coriander leaves roughly chopped
2 teaspoon salt,
1 teaspoon garam masala
1 teaspoon crushed coriander seeds
¼ teaspoon carom seeds (ajwain)
Juice of half a small lemon
2 cups of chappati flour for the dough
1 tablespoon oil or ghee
Method
Peel and grate the mooli and the potatoes
Sprinkle with 1 tsp salt and set aside for 30 minutes this encourages the mooli to release water
Once the 30 minutes are over using both hands squeeze out the water making sure you squeeze out as much as you can. I use a potato ricer as it takes the hard work out of it.
Don't discard this water as you will use it for your dough
Make the dough using two cups of chapatti flour, a teaspoon of salt and the water that you squeezed out from the mooli and potatoes. If you don't have enough of the water to make a smooth but firm dough add a little tap water
Cover and let it rest for 15 minutes
Add all the remainder ingredients to the grated mooli/potato ready to fill the parathe
Take two equal sized balls of dough and roll out two Roti's
Take a portion of the stuffing and cover the surface of one Roti – making sure you don't go too close to the edges.
Place the 2nd Roti on top of the stuffing and press down gently, focussing on the edges, sealing the Paratha as you do
Taking the rolling pin – carefully roll it over the Paratha – making sure you don't put too much pressure on or it will squeeze out the stuffing. This should increase it in size and help it thin out a little more.
Place the Paratha on a warm Tava (griddle) or a non-stick frying pan and heat on one side until you see the edges start to lift away from the pan. Don't have the heat too high or it will cook too quickly on the outside.
Flip it gently using your hands or a fish slice and brush with oil or ghee.
Allow the other side to cook for a couple of minutes then turn and brush that side with oil too and cook for another couple of minutes.
Keep flipping it and cooking on each side until the surface is a golden brown colour and the stuffing has warmed through completely.
Your Paratha is ready!  It should be crispy on the outside and hot the stuffing should be hot and cooked.  Serve with home-made yoghurt (Dahi) and a pickle (Achaar) of your choice.
You can find me on all social media channels under The Authentic Punjabee.
Facebook / Instagram / Tiktok / Youtube