Split red lentils cooked in a light tadka
Masara di Dal or Masoor dal as some of you may know it is a beautiful and light lentil dish made using red split lentils. They cook so quickly the dal can be ready to serve in under an hour, especially handy on a busy week night, and at this time of year when the weather is cooler – it's a true hug in a bowl.
It was a regular meal during my childhood, Mums go to when working nights at Heathrow, she would put it on the boil when she woke up late in the afternoon. Almost soup like – the grains becoming invisible as they cooked, spicing it with a beautiful buttery Turka and lacing it with freshly chopped coriander.
Many of you have asked how I make it so soupy. Older lentils take much longer to cook and often shed their skin during cooking, so try to buy the freshest lentils possible. If you don't cook them often then buy in smaller quantities. I also find washing them and then starting the cooking process with cold water really helps too.
It's still a favourite of mine, and really easy to pull together when I fancy it – I sometimes eat it on its own!
I now use a lot more garlic, ginger and chillies, as our taste buds seem to have outgrown the simple way Mum made it, and it is usually served with a side of Bhindia di sabji or a dry tinned fish.–
But the Dal itself is still fondly remembered as Nanni's Dal.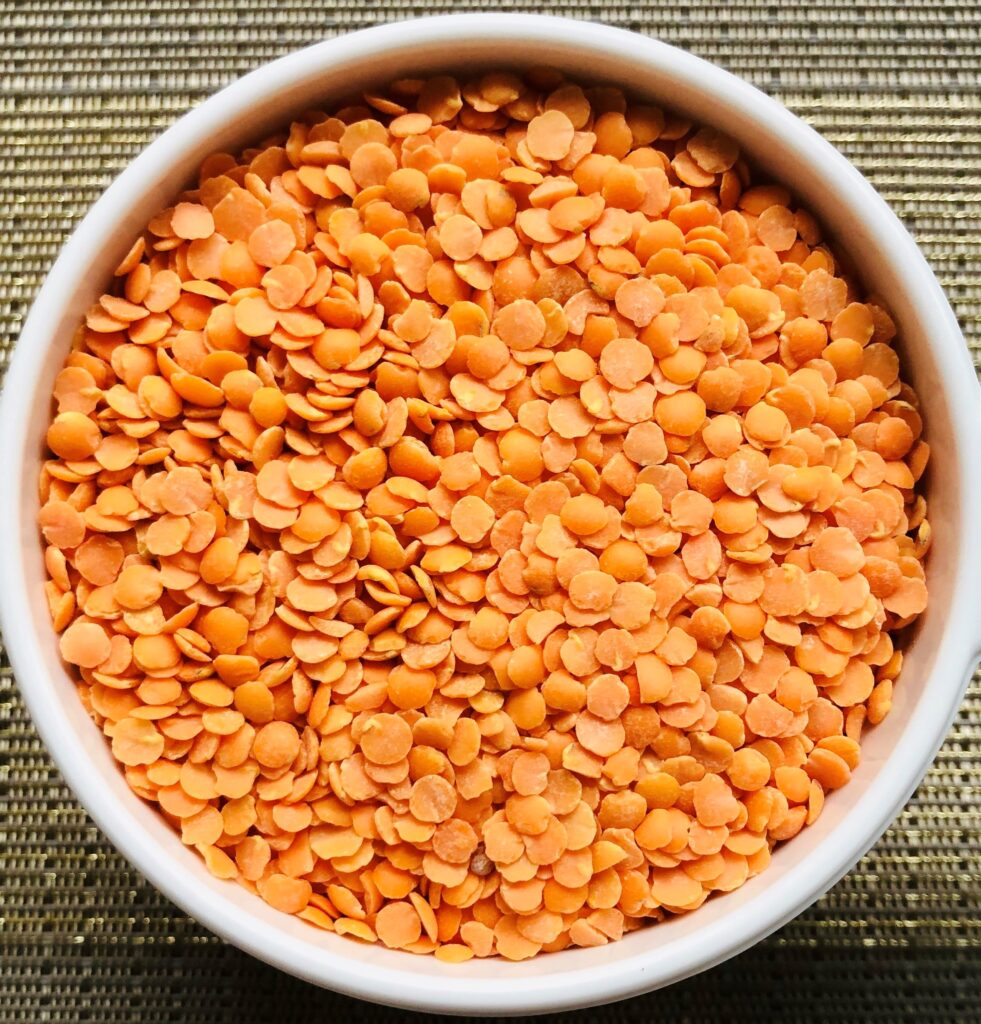 Ingredients – Serves 4
1 regular tea/coffee cup of split orange lentils
1 litre of cold water
1 tablespoon of ghee or oil of your choice (olive, sunflower, vegetable)
1 teaspoon of cumin seeds
1 medium diced onion
1 tbsp garlic paste
1 tbsp ginger paste
2 fresh green chillies (more or less according to taste)
1 teaspoon turmeric powder
Half tsp of garam masala
Half tsp of kashmiri chilli
Half tsp coriander powder
1 tsp salt or to your taste
2 large fresh tomatoes – finely chopped or 200g canned tomatoes
Lots of freshly chopped coriander
Method
Wash the lentils in cold water until the water runs clear, and then bring to the boil in a litre of water and allow to simmer until the grains cook down (if using a pressure cooker – then a quick 3 minute whistle) – it cooks really quickly!
Once the lentils have come to the boil, lower the heat and allow to simmer partially covered, scraping off any white foam that comes to the top
Do not let the water evaporate as the dal must stay thick but runny.
Heat the oil in a frying pan on a medium flame
Add the cumin seeds and when the seeds start to warm through and release their aroma – add the diced onion
Cook the onion until it turns slightly golden in colour
Lower the heat and add the garlic, ginger and green chillies.
Once you can smell the garlic it is cooked. If the mixture sticks to the pan, add a little water
Add the turmeric powder and stir, the mixture should now be sticking together.
Stir in the chopped tomatoes and mash them down whilst cooking
Add salt to taste and the kashmiri chilli, coriander powder and garam masala.
Stir this turka into the dal and sprinkle on the chopped coriander
Serve the dal with a knob of butter and with fresh roti, naan, rice or even a nice big bowlful on its own.
You can find me on all social media channels under The Authentic Punjabee.
Facebook / Instagram / Tiktok / Youtube