Light and Fresh Spiced Chicken
I love this Chicken dish. It's so easy to create and the best thing is it requires just three spices – turmeric, kashmiri chilli and garam masala.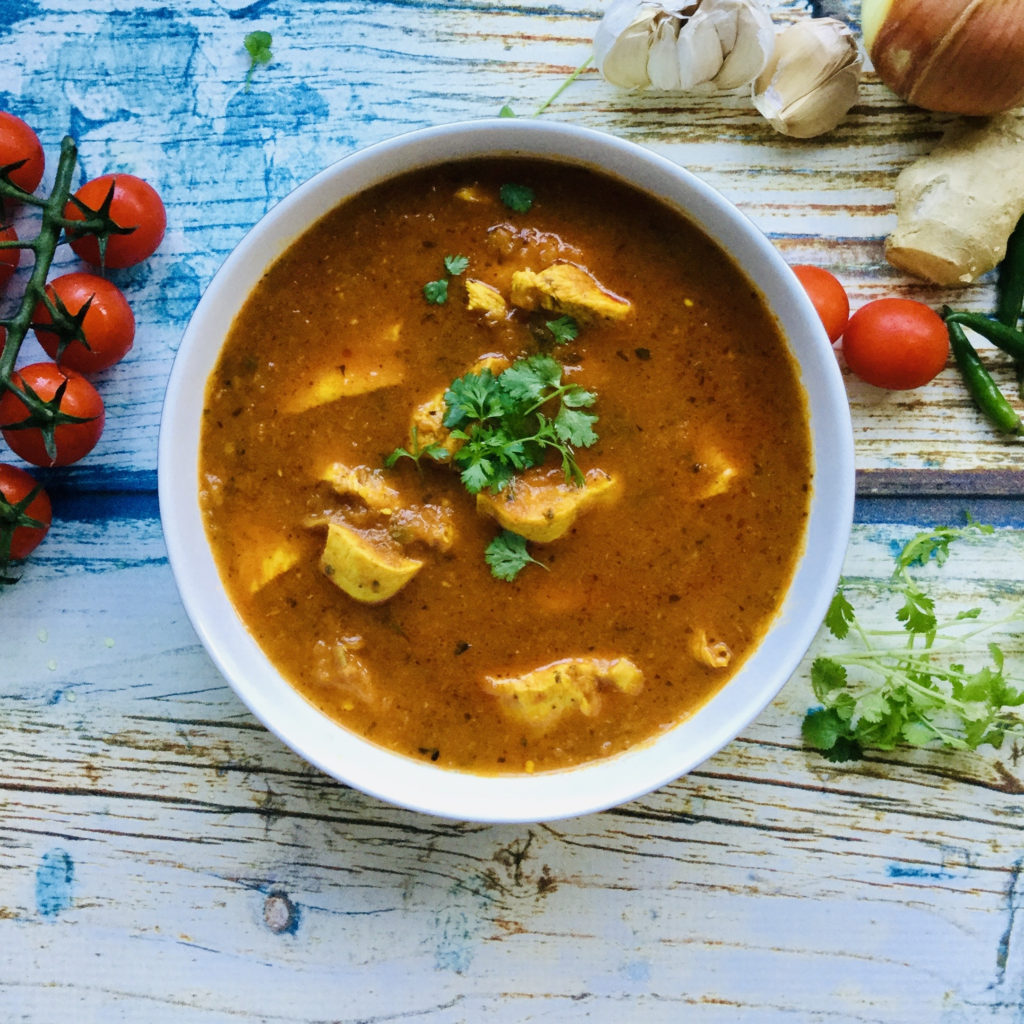 My mum made it a lot when we were younger – it was another quick and easy one for her to make on the go and it was cooked often when she was babysitting my children and all their cousins. I made this recently and my son helped himself to a small bowl of it as a taster as dinner was still a couple of hours away. The first words that left his mouth were – 'This brings back so many memories Mum- this is just how Nanni used to make it'. My mum passed away last year on my birthday – and she gets a mention in our house every single day. I love that the kids can still relate to her through the dishes she cooked for them – light, fresh, quick and lightly spiced. We all miss you so much Mum x
Ingredients – Serves 4
Preparation 15 mins, cooking time 40 mins
1 tablespoon oil or ghee
2 large chicken fillets washed and cubed
2 medium onions diced
4 garlic cloves – minced
2 inch piece of ginger – minced
1 teaspoon turmeric
1 teaspoon salt
3 green chillies – chopped finely
200g tinned tomatoes – blended
1 teaspoon kashmiri chilli
Handful chopped coriander leaves to garnish
Method
Heat the oil in a heavy based pan
Add the diced onion and fry until golden brown
Add diced garlic and ginger and cook until you smell the garlic
Stir in the turmeric until you get a sticky mixture
Add the blended tomatoes and chilli and simmer on a medium heat stirring regularly until the oil rises to the surface of the pan
Add the chicken cubes stirring well into the mixture so that all the pieces are covered in it and lower the heat and cover the pan and cook for 15 minutes
After 15 minutes the chicken should be three quarters cooked, and you can add half a pint of water to create a runny sauce
Cover and cook on a medium heat for a further 10 minutes.
Check the chicken is cooked, and sprinkle on the garam masala and coriander.
Serve with rice or roti. How quick was that?