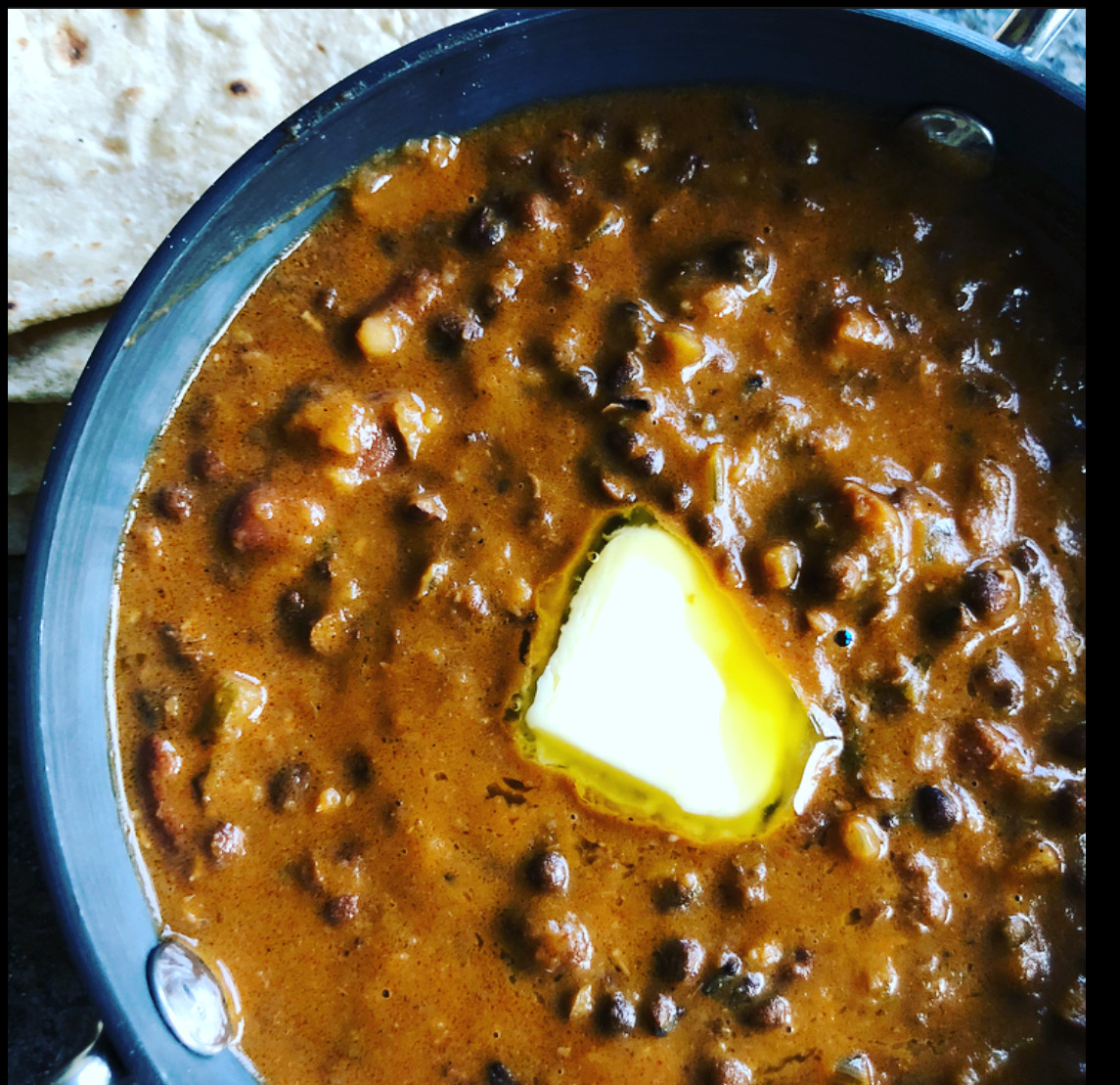 The practice of langar was started by Guru Nanak in the 15th century to try to eliminate the caste system, where people of any religion, caste, colour, age or gender could sit and enjoy a free meal together. Langar is available every day at Gurudwaras all over the world and is cooked by sewadar, people from the general public that help to prepare, cook and share this delicious vegetarian food. The food at the Langar is cooked using most ingredients but garlic seems to be omitted in some Gurudwaras. I am still researching the reasons for this……….
This dal is a favourite and is created from a combination of lentils that people contribute to the Gurudwara – therefore there is no real fixed recipe for it. I am going to show you a very quick version of it today using a mixture of Black Gram and Yellow split peas known as Sabut Urad and Chana dal in Punjabi, but you can create it from as many lentils as you wish. The dal is so tasty you can eat it on its own!
If you don't have a pressure cooker, soak the lentils the night before, add to the pot with the water and bring to the boil, then allow to simmer on a low heat until the lentils are cooked through. You will have to keep topping up the water a little to stop the pan drying out and the process can take over an hour.
Ingredients
2 cups black gram (urad dal/urid dal)
1 cup split yellow peas (chana dal)
2 pints of cold water
1 teaspoon red chilli powder (use less if you prefer)
1 teaspoon salt
1½ teaspoons turmeric (keep half back for the turka/base)
1 tablespoon of ghee or oil
1 teaspoon cumin seeds
1 diced onion
1 tablespoon of ginger paste
1 tablespoon of garlic paste – this is optional
1 tablespoon tomato puree/or 2 large diced tomatoes or 200g of plum tomatoes
1 teaspoon garam masala
Method
Check the lentils for any stones and remove. Then soak in cold water for a minimum 4 hours.
Transfer the lentils to a pressure cooker and rinse in cold running water for at least 5 or 6 changes of water, or until the water runs clear
Now cover the lentils with 2 pints of water and add a teaspoon each of red chilli powder, salt and of course my favorite, the gold dust, turmeric, give it a stir then cook in the pressure cooker for 20 minutes.
Meanwhile, in a frying pan, heat a tablespoon of ghee or oil and add a teaspoon of cumin seeds.
Once they begin to splutter in the pan, add a finely diced onion.
Fry the onion until it starts to brown a little, then add 2 tablespoons of garlic and ginger paste.
When you can smell the garlic add half a teaspoon of turmeric and cook for a further minute.
Now add a heaped tablespoon of tomato puree.  Alternatively, you can use 2 fresh diced tomatoes or 200g canned plum tomatoes if you wish.
Cook on a medium heat for 2-3 minutes and then add green chillies to taste is using.
Sprinkle on a teaspoon of garam masala and stir thoroughly and if needed add a little boiled water to loosen up the mixture in the pan. Once the oil rises to the top your (turka) base is ready.
Allow the pressure cooker to cool and release the steam, then check the lentils. They should be cooked but still hold the shape of the grain.
Transfer them to a deep heavy based pan and add a cup of boiled water if you find they are too dry.
Once you have added the water, mash them slightly using a potato masher. Your dal is beginning to take shape, it shouldn't be too thick or runny and should have a slightly creamy consistency.
Take the (turka) base you prepared earlier and add it to the pan with the lentils, stirring thoroughly so that all those lovely ingredients and spices are completely mixed into your dal.
Lower the heat and cover and allow to simmer for 10 minutes.
Before serving add a handful of fresh chopped coriander leaves. Serve with a dollop of ghee or butter and fresh roti or naan.
And there we have it! A very quick and easy Langar Wali Dal.
You can find me on all social media channels under The Authentic Punjabee.