Deep fried dough balls in a sweet syrup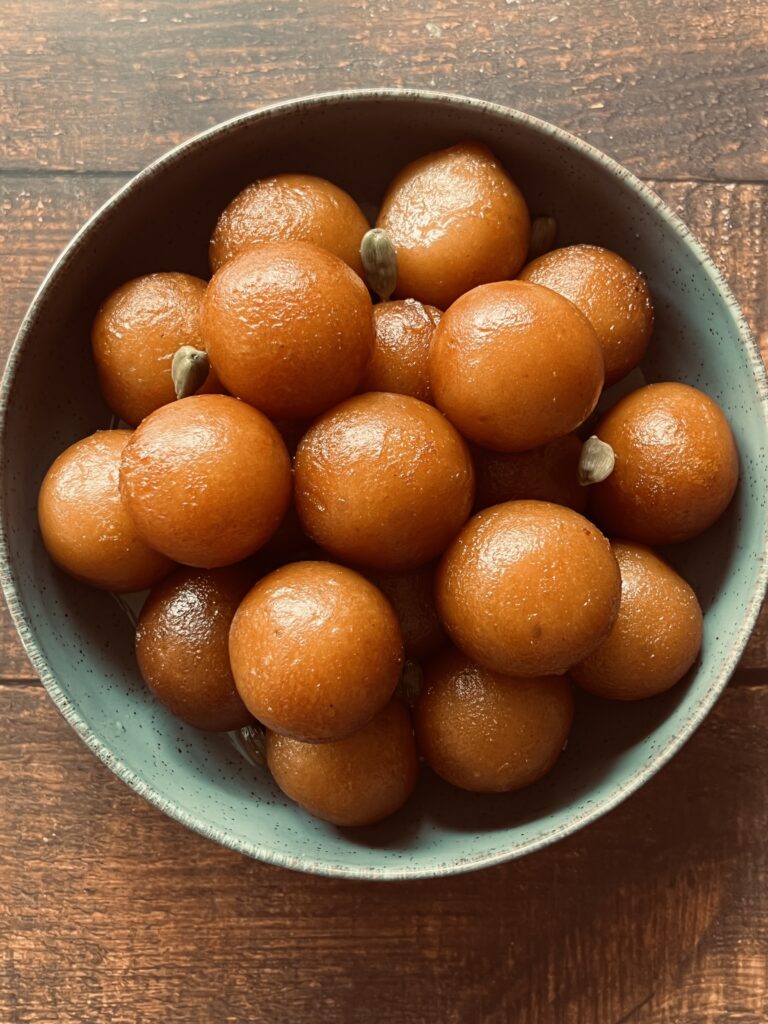 My mum loved Gulab Jamun – making them and eating them – so I am going to keep this post short and go straight to her recipe. She used cups to measure ingredients so we are going to do the same……
Ingredients – makes up to 30
1½ cups of unsweetened milk powder
1 cup plain flour
1 tsp baking powder
4 tbsp ghee
2 tbsp milk for kneading (any kind)
Oil for deep frying
4 cups water
4 cups white sugar
4 green cardamom
A pinch of saffron (kesar)
2 tsp lemon juice (to prevent syrup from crystalising)
2 tsp rose water (for gulab flavour)
Method
Mix together the milk powder, plain flour and baking powder in a large bowl
Add the ghee and use your fingertips to form a breadcrumb consistency
Now adding a little of the milk at a time, very lightly knead into a soft dough – do not over knead
Cover the dough and leave it to rest for minimum 10 minutes
Whilst the dough is resting, in a large pan, mix together the water, sugar, cardamom, saffron and rose water and boil until it forms a sticky syrup. Make sure it doesn't get stringy and add the lemon juice at the end when you take it off the heat to prevent it from crystalising
Now take the dough and form equal sized balls ensuring they have a smooth surface and no cracks
Heat the oil on a medium heat and test to see if it is ready – you can do this by throwing in a tiny ball of the dough mixture – it should rise to the top instantly
Turn the flame to low and place the dough balls into the hot oil and fry gently until golden brown – turning continuously so they brown equally on all sides
Remove from the hot oil and drain
Now add to the hot syrup. They will double in size over the next 3 to 4 hours.
Serve either hot or chilled with ice-cream or on their own.