What can I tell you about this recipe apart from it's quick, easy and so, so delicious, you'll never make wings any other way.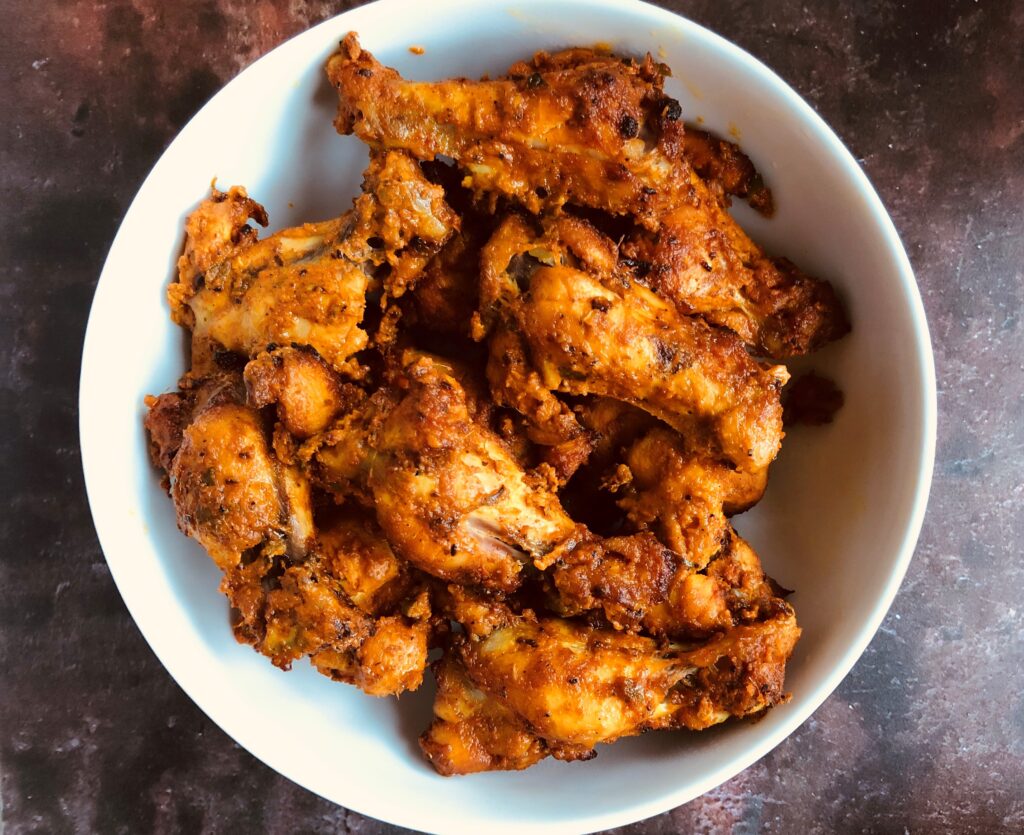 The beauty of this particular dish is you need one set of ingredients for both the wings and the dip and the even better news is that there is…. NO MARINATION TIME REQUIRED!!….You literally mix up all the ingredients, chuck them into a baking tray, whack in the oven and 30 minutes later you will be licking your fingers. Let's face it – you cannot eat wings any other way than using your fingers right? Alternatively, finish them off on the barbeque if you like the extra charred flavour.
You can grind your own fresh masala, or alternatively, if you don't have the spices in whole form – mix up the powder form but use half the listed amounts. Sadly I had no fresh coriander when I made them – but do use it as a garnish if you do and also add it to the dip- we all know coriander is the food of the Gods!
I have used a lot of green chilli in this recipe – but then that's a Punjabi thing, as most of us cannot sit at a meal unless we are gasping for breath whilst we eat, don't ask as I have no explanation for it. Hot sauce with any non-Indian meal, a green chilli on the plate if the chilli content isn't off the scale….however, please use chillies to suit your own palate. Remember you will be getting the heat from the black peppercorns and the ginger too.
Ingredients – Serves 2
For the Masala
½ tbsp cumin seeds
½ tbsp coriander seeds
1 teaspoon black pepper corns
Dry roast the seeds on a medium heat until they start to pop
Grind in a pestle or use a spice grinder and keep aside
For the Wings
12 skinless chicken wings washed and cleaned
2 heaped tbsps of ginger and garlic paste
1 tbsp chopped green chillies (or to your own taste)
1 teaspoon salt
1 teaspoon turmeric
1 teaspoons Kashmiri chilli
¾ of the fresh masala you made earlier
½ cup of plain yoghurt
Juice of half a lemon
Chopped coriander leaves for garnish
Method
Pre-heat the oven to 230 c/Gas Mark 8
Place all the ingredients for the Wings in a glass or plastic bowl and mix well, ensuring all the meat is coated
Transfer to a baking tray and cook on the top shelf of the oven for 30 minutes – turning half-way
For the Dip
1 cup yoghurt
1 teaspoon salt
1 teaspoon Kashmiri chilli
½ teaspoon coriander powder
Juice of half a lemon
1 teaspoon minced garlic
1 teaspoon ground red or green chillies or red chilli powder (optional)
Remainder of your masala
Method
Mix all the ingredients in a bowl until combined and serve with the wings…..yes – that's all you have to do! 
You can find me on all social media channels under The Authentic Punjabee.