Black Chickpeas and Potatoes in a thick gravy
Kala Chana is choc full of flavour and nutrition – it's a legume loaded with nutrients such as protein, fibre and carbohydrates. Also an incredible source of vitamins like B6, C, folate, iron and copper. In the Punjab it is fed to horses in its original raw state to keep their bones and teeth strong and healthy.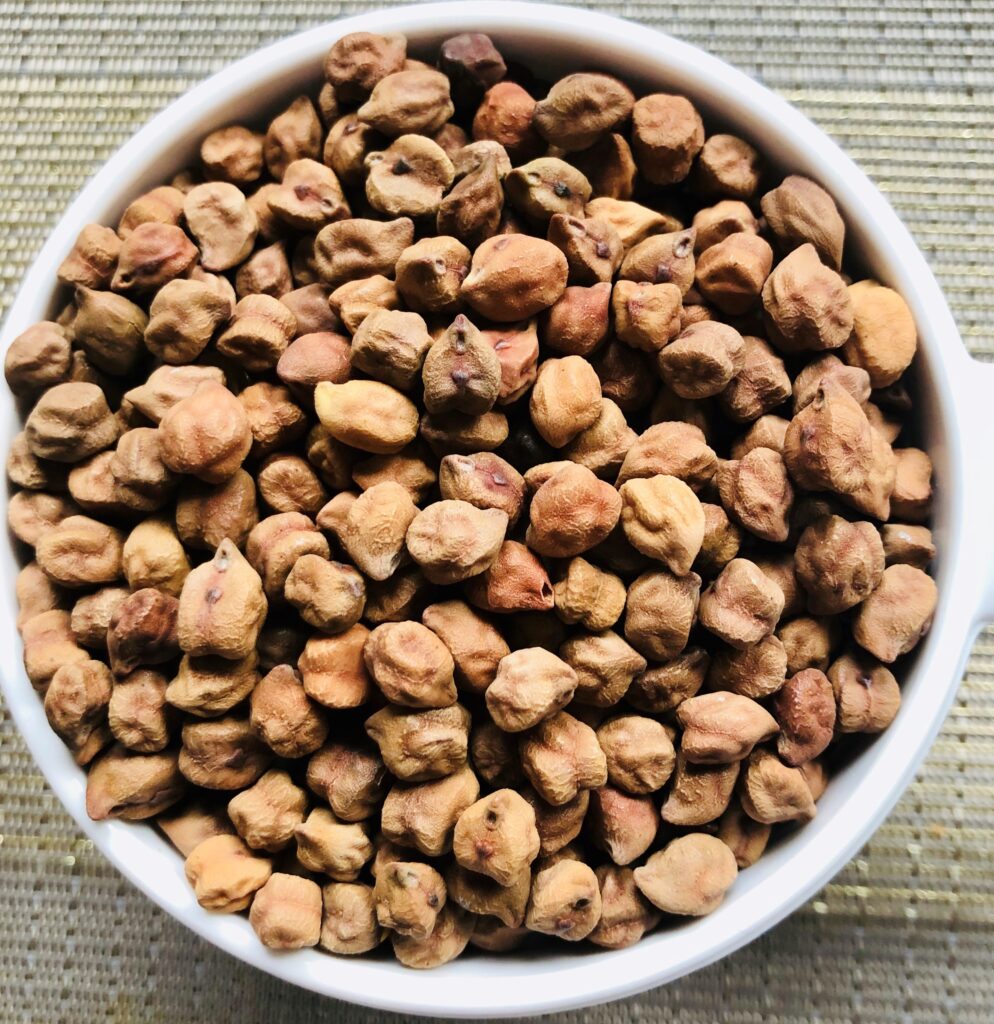 Our elders swore by this type of dish when it came to re-building strength after illness or pregnancy – my Dad made this for me when I first went back home after delivering my first-born. Punjabi parents are all about feeding you the right stuff to help you get your strength back after a baby. They call that time of life 'Shila' – or 'Sawa Mahina' meaning 5 weeks. In those 5 weeks the new mother should be doing nothing but re-building her strength and also nurturing her baby. Some families will only allow the new mother to leave her bedroom just to use the bathroom. All meals are taken up to her and she is not allowed to use the stairs. All the healthy food she eats during this time will go to her child if she is breastfeeding. Her bones are still supple from being stretched during the delivery – so family rally around and do all the household chores and cooking and cleaning.
Look out for my Panjiri recipe – which is a meal in itself, made especially for new mothers or those recovering from an illness and it is extremely helpful because it is considered a great nutritional supplement with healing properties and helps to encourage milk-flow too. My daughter is expecting her second child at the end of July and I will be with her a week before she is due so watch this space for the recipe.
Back to Kala Chana – this recipe is really easy – you just need to remember to soak the chickpeas a night before you are going to cook it. Always wash lentils and legumes thoroughly in at least 4-5 changes of water before soaking them. We are going to save the water the chickpeas are boiled in for this recipe – see below. We are also going to over spice with ginger and garlic as it works so well with the earthy flavour you get from the chickpeas. Again I have added potatoes as my husband is Mr Potato Head reincarnate – but that's entirely optional.
Ingredients – Serves 6
2 cups of Black Chickpeas soaked in a litre of water overnight
2 large potatoes peeled and quartered
1 tablespoon of ghee or oil
A small pinch of black mustard seeds
1 teaspoon of cumin seeds
1 teaspoon of crushed coriander seeds
2 medium onions diced
1 loaded tbsp ginger paste
1 loaded tbsp garlic paste
I – 2 teaspoon turmeric
4 green chillies – finely chopped – or to your own taste
1 x 400g plum tomatoes blended
1 teaspoon kashmiri chilli
1 teaspoon achari masala (optional)
1 teaspoon garam masala
1 teaspoon salt
1 teaspoon dried fenugreek leaves
Method
Cook the chickpeas in a pressure cooker in a litre and a half of water for roughly 25 minutes – 2 to 3 whistles depending on the cooker
Drain and keep aside – keep the water in a separate bowl/jug
In a deep based pan add the ghee or oil and when you can see it is getting hot add the cumin seeds mustard and coriander seeds, they should sizzle when they hit the oil
Add the onions and fry them until they are golden brown on a medium heat
Stir in the garlic and ginger paste, and as soon as you smell the garlic turn down the heat to low
Add the turmeric and fry for a further minute then add the blended tomatoes
Turn the heat up a little and add all the remaining spices, salt and green chillies, stirring well
Cook this mixture until the oil creates little wells in the pan and comes to the surface
Add the cooked chickpeas and stir fry for a couple of minutes, before you add the potatoes, give them a good stir and then cover and turn the heat really low
Stirring regularly allow the ingredients to cook until the potatoes are partially cooked
Add the water you drained from the chickpeas. If you are short – add water from a boiled kettle to make up the litre
Bring to a rolling boil, then turn the heat down really low and cook until the potatoes are cooked through and the gravy has thickened. If you think it's not thick enough then simmer with the lid off and allow it to reduce slowly.
When your potatoes and chickpeas are cooked and the water has reduced to a beautiful thick gravy your dish is ready
Serve with roti or rice