Potatoes and Cauliflower cooked in spices
Aloo Gobi is one of my favourite vegetarian dishes. The version which we make at home is a distant relative of the type found in "curry houses" up and down the country.
The authentic Aloo Gobi has light fluffy potatoes, which add a delightful creaminess to the dish, and perfectly cooked succulent cauliflower. I sometimes like to use new potatoes too, they are a lot firmer in texture and if I am cooking to serve it another time this works well for not overcooking the potatoes when reheating. Note of interest also is that sometimes we use the stalks and the greens of the cauliflower too, especially when really fresh (in Punjab that wouldn't be an issue – farm to plate in a flash).
This dish exemplifies authentic Punjabi cuisine, because all our dishes don't have the same flavour or taste (our biggest gripe of Indian restaurants which usually use the same stock sauce for all dishes), as each dish is spiced differently. Pungent ingredients like garlic and onions used copiously for robust meats and poultry, would overpower here. Instead aromatics such as methi (fenugreek) and ginger are used which really bring everything together, and if you throw in a spoonful of crushed coriander seeds it gives the dish a 'va va voom' of additional fresh flavour….truly delicious! I also keep the onions quite large and roughly chopped – I am not creating a gravy or runny sauce so it's nice to be able to get a flavour of onion in your mouth too when eating this dish.
This is a great dish for vegans too as you can create this without the use of butter or ghee and still get a really creamy texture to it. Many people don't like to cook the florets for too long and prefer to keep it firm in consistency – however, I like it cooked just a little bit beyond that – and so do my kids – so happy faces all round.
Left over Aloo Gobi makes a great toastie or if you are more adventurous consider a Gobi Paratha – see recipe for Aloo Mooli Paratha and replace the Mooli mix with the Aloo Gobi. Just bring to room temperature before you use it for a filling.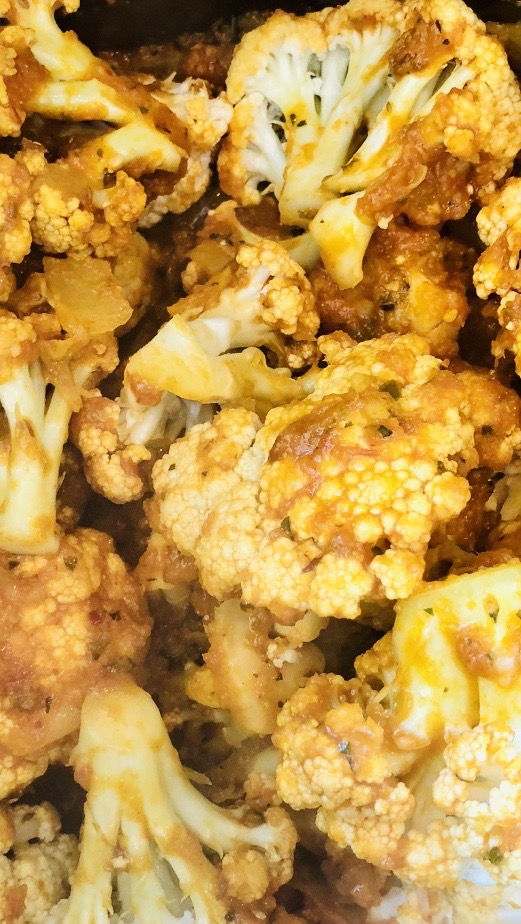 Ingredients – Serves 5
Preparation time 20 minutes – cooking time 40 minutes
1 tablespoon of oil or ghee
1 large cauliflower – broken into medium sized florets
2 large potatoes – peeled, cubed and par-boiled
1 large onion – roughly chopped
3-inch piece ginger – crushed or finely minced
4 garlic cloves – crushed or finely minced
3 chillies finely chopped
1 tablespoon tomato puree
1 teaspoon cumin seeds
1 teaspoon crushed coriander seeds
1 teaspoon turmeric
1 teaspoon kashmiri chilli
1 teaspoon coriander powder
1 teaspoon garam masala
2 teaspoons dried fenugreek
1 teaspoon salt
Method
Heat the oil in a heavy based pan and add the cumin and coriander seeds, once they start to pop add the chopped onions
Stir fry the onions for 8-10 minutes until they are ever so slightly brown in colour – then add the garlic and ginger paste
Stir fry quickly until the garlic releases its aroma, then lower the heat and add the turmeric
Add the tomato puree and chillies and cook until the oil comes to the top of the mixture, add the salt and all the remainder spices bar the dried fenugreek
Lower the heat and over and cook for another 5 minutes
After 5 minutes add the cauliflower florets and rubbing the dried fenugreek between your hands add to the pan, stirring well, then lower the heat, cover and cook for 20 minutes
Now add the potatoes and cook for a further 10 minutes until you have the consistency you prefer
Garnish with chopped coriander and serve with roti, naan or rice