So is it Saag Chicken? Chicken Saag? Saag Murgh or Saag Murghi or is it Murghi wala Saag or Saag wali Murghi. Speak now!
So many questions – and so many names for one dish! So I am going to make it easy for you and call it 'Saag wala Chicken'.
My daughter in law absolutely adores this dish, it was the first meal I cooked for her when my son brought her home to meet us for the first time – so another dish with a very special memory attached to it.
It's made with succulent and tender chicken pieces, cooked in a concoction of spring greens, kale, broccoli, spinach and everything else that you will also find in my Saron da Saag recipe.
This particular Saag Wala Chicken has a little short-cut to it. I have used a tinned Saag (the TRS variety, which my husband drools over), he says it takes him back to his University days. So this means you can have Saag Wala Chicken any day of the week….how good is that!
The recipe is really simple – and the dish you get at the end of it is amazing, really delicious.
You can also combine the Saag with a left over chicken dish you may already have in the fridge – the family will assume you have been toiling over a hot stove all afternoon. I won't tell if you won't!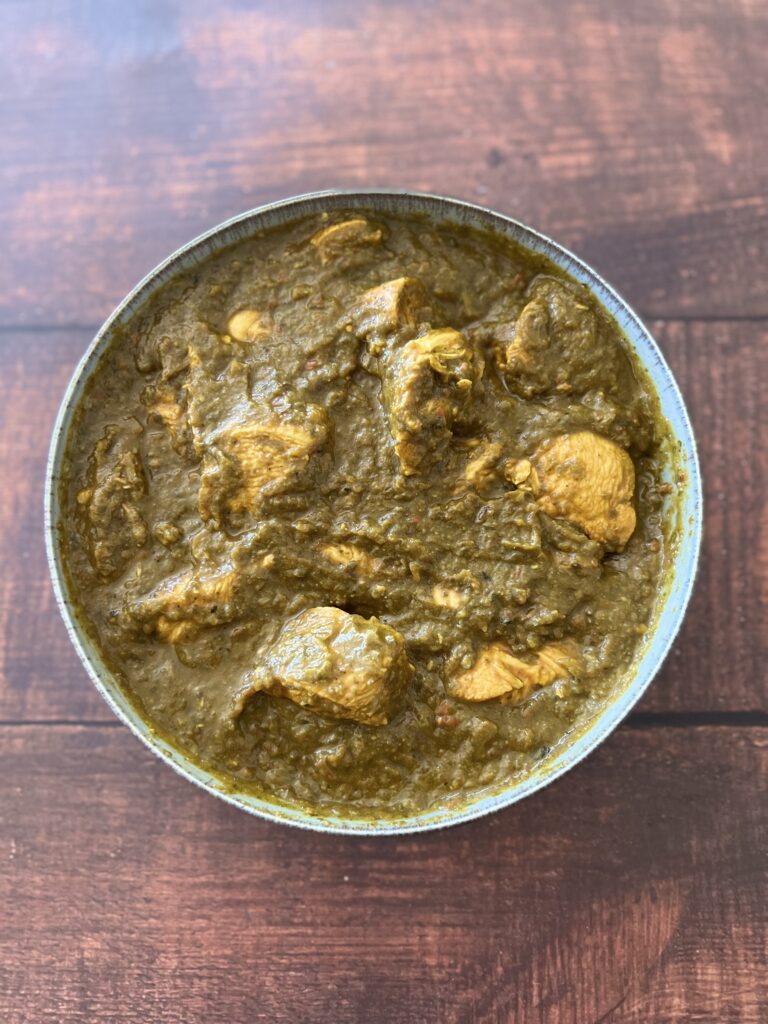 Ingredients – Serves 4
2 chicken fillets washed and cut into medium sized cubes
1 large tin of Sarson ka Saag
1 tbsp of oil
1 large finely diced onion
1 teaspoon of cumin seeds
Half teaspoon black mustard seeds
2 green cardamom
1 heaped tablespoon garlic|ginger paste
1 teaspoon of turmeric
300g plum tomatoes – puree
3-4 minced green chillies
1 teaspoon of kashmiri chilli
1 teaspoon coriander powder
1 teaspoon cumin powder
Salt to your taste
Method
Warm the oil in a pan and add the cardamom and cumin & mustard seeds
Once they begin to pop in the pan add the onion
Fry the onion until it is almost brown then add the garlic and ginger paste
Sauté for a couple of minutes then add the turmeric
Stir fry for a minute then pour in the tomato puree
If the mixture becomes a little dry add a little water to loosen it up
Cook all the ingredients for a few minutes on a medium heat, keep adding a little water if it becomes too dry
Stir in the green chillies, salt and remainder powdered spices
Cook on a medium heat until the mixture begins to darken in colour stirring regularly
Now add the chicken pieces, ensuring they are coated with all the ingredients in the pan
Cover and cook on a low heat until the chicken has cooked through
Slowly stir in the tin of Sarson ka Saag
Cover the pan and cook on a low heat for 10 minutes
After 10 minutes remove the lid and cook on a medium heat stirring regularly until most of the moisture has evaporated – do not allow it to go too dry
Serve with roti or naan
You can find me on all social media channels under The Authentic Punjabee.