Carrot, milk and pistachio dessert
Gajar is the Punjabi word for carrot and this is a beautiful dessert made with the sweetness of carrots and pistachios coupled with the fragrance of cardamom. My version of it is very quick and easy. In Punjab it is know as Gajrela and Gajar Ka Halwa in India generally. It's such a gorgeous dessert and contrary to the belief that a lot of Indian desserts are exceptionally sweet – my version of Gajrela is not laden with sugar, as I use condensed milk which add it's own sweetness instead of regular milk and sugar. It can also be made using khoya – which is made by simmering full-fat milk in a pan for several hours over a medium heat until it thickens.
When my mother in law turned 85, we threw her a surprise birthday party and alongside the fresh cream cake we had ordered for her, I made gajrela as a dessert. When the guests were leaving we were handing out cake for them to take away, and they refused the cake asking if there was any gajrela left over they could take instead. So you can see just how popular it is with Punjabi's.
Personally I would rather spend the time enjoying it than making it, wouldn't you? I serve it warm with a nice dollop of vanilla ice-cream.
Here is my take on this very popular dessert.
Ingredients – Serves 4
Preparation time 15 mins – cooking time 25 mins
Third cup of ghee or unsalted butter
6 large carrots – peeled and chopped using a chopper
Half cup of sweetened condensed milk
1 teaspoon ground green cardamom seeds or powder
Qtr cup finely chopped pistachio nuts
Method
Chop the carrots until they are very finely chopped, almost ground down but not into pulp – see picture below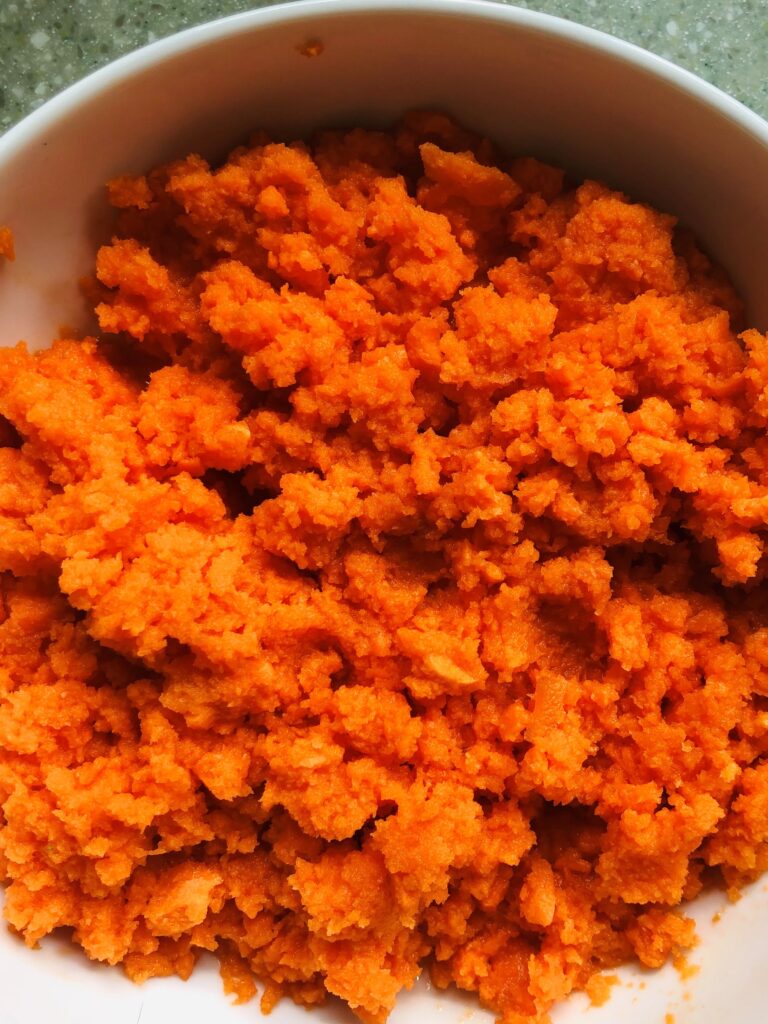 Melt ghee/unsalted butter in a non-stick pan
Add the blended carrots and cook until they absorb the ghee/butter and start to thicken and dry out. You want a dry consistency so keep cooking until the moisture in the pan evaporates
Once the ghee/butter has been totally absorbed add the condensed milk and mix well into the carrots
Continue cooking until the carrots and the milk have become a thick sticky mixture
Now add the cardamom powder and stir well
Add the nuts and continue cooking until the mixture has no moisture left in it at all- as per the video below
Serve hot with a good quality ice-cream sprinkled with a little chopped pistachio nuts
ENJOY!