Potatoes and peas with eggs (optional) cooked in spices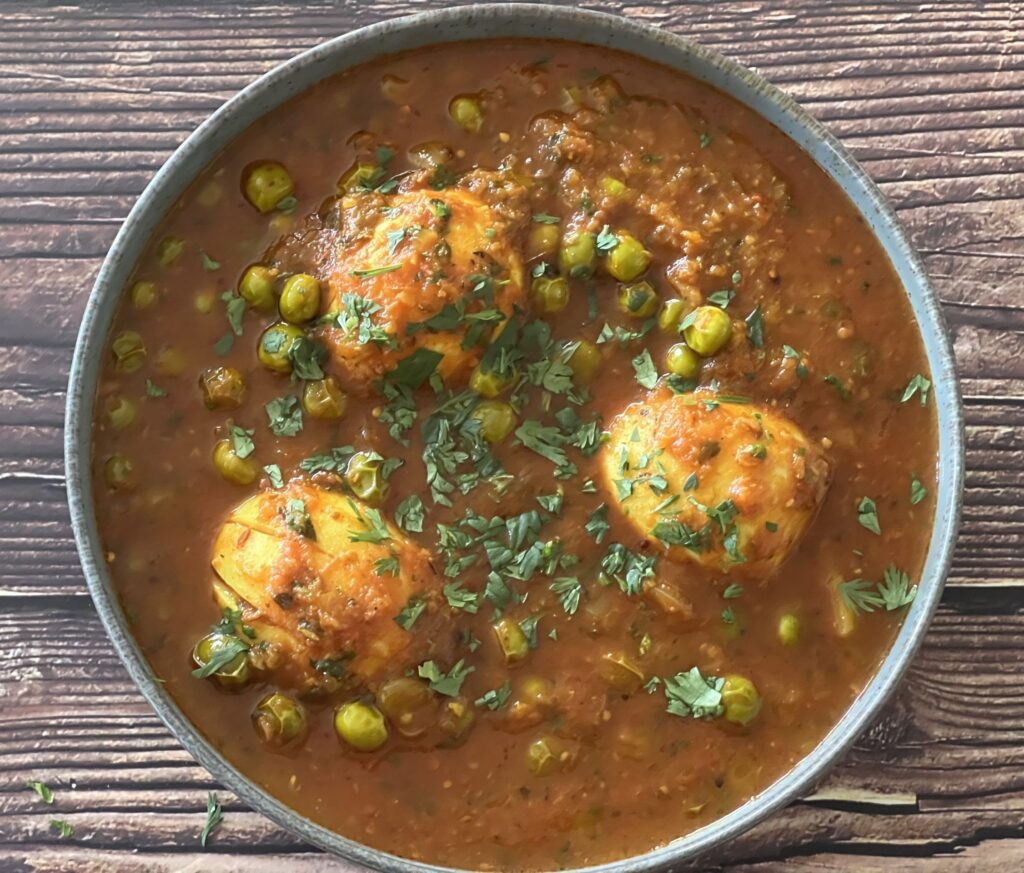 What can you make with a few potatoes and some frozen peas? Yes – you have a few options – you could boil them and make mash with peas, maybe have them with fish fingers, or something else from the freezer…..or….you can really push the boat out and make this dish. You can of course also use fresh peas – entirely up to you.
The basic Alu Mattar is one that I reach for when I want to get something good on the table in minimum time. My Mum made this all the time, but back then she used to make it a lot runnier as she was feeding a family of 7 and would want it to last for at least 2 dinners, so she would make a big pan full of it. Dad on the other hand would zhuzh it up a bit by adding the boiled eggs much to Mum's dismay. When fresh peas were in season she would make it using them – and the kids would sit together popping the peas from their pods – however the cooking time for fresh peas was much longer, so bear that in mind if you decide to use fresh and cook the peas before you add the potatoes. If you are really short of time, you can boil potatoes separately whilst you cook the base.
Its basic ingredients with some added spices – but the flavours are phenomenal as they all work so well together. So you can add or not add the 'anda' – it's entirely up to you. I love it with eggs so I always add them. My family are divided on this one – some of them love the egg – the others not so much, my husband – 'not in a million years'!
Ingredients
1 tbsp oil
Half teaspoon black mustard seeds
1 teaspoon cumin seeds
1 large diced onion
1 tbsp garlic paste
1 tbsp ginger paste
1 teaspoon of turmeric
3-4 minced finely chopped chillies (or to taste)
300g of plum tomatoes – pureed
1 teaspoon kashmiri chilli
1 teaspoon red chilli powder
2 teaspoon dried fenugreek leaves
Salt to your taste
1 teaspoon coriander powder
1 teaspoon garam masala
7 or 8 thoroughly washed and sliced in half new potatoes – or 2 medium potatoes cubed
2 cups of fresh or frozen peas
5 – 6 hard-boiled eggs (optional)
Handful of chopped coriander leaves
Method
Warm the oil in a heavy based pan
Add the mustard and cumin seeds
Once the seeds begin to pop add the diced onion and cook until almost brown
Add the garlic and ginger and sauté for a couple of minutes
Now add the turmeric and cook for a minute before adding the pureed tomatoes and green chillies
Cook for a few minutes on a medium heat then add the kashmiri chilli, red chilli, salt and fenugreek leaves by rubbing them between the palms of your hands to release their flavour
Continue cooking until the mixture begins to thicken and the oil rises to the top and add the garam masala and coriander powder
Toss in the potatoes and peas and coat well with the sauce, add a cup of water to the pan and turn the heat up until it begins to boil, then lower the heat and cover and cook for 25 minutes or the potatoes are almost done
If adding eggs slash the whites so they will absorb the flavours in the pan – don't cut too deep
After 10 minutes, add two cups of water and bring to the boil then cover and cook for a final 5 minutes – you should now have a nice thick but runny sauce.
Sprinkle on the coriander leaves and serve with fresh roti, naan or rice
You can find me on all social media channels under The Authentic Punjabee.