A nutritional and healthy pick me up
Panjiri is a wonderful snack that is so full of energy. Many Indians make this during the start of the winter months in large quantities, and it is eaten in the mornings to keep away colds and other ailments and to give their immunity a boost. It is also good for post pregnancy healing and lactation, providing nourishment and energy to new mothers. Often made in huge quantities, you may be offered this particular snack when visiting a new born baby.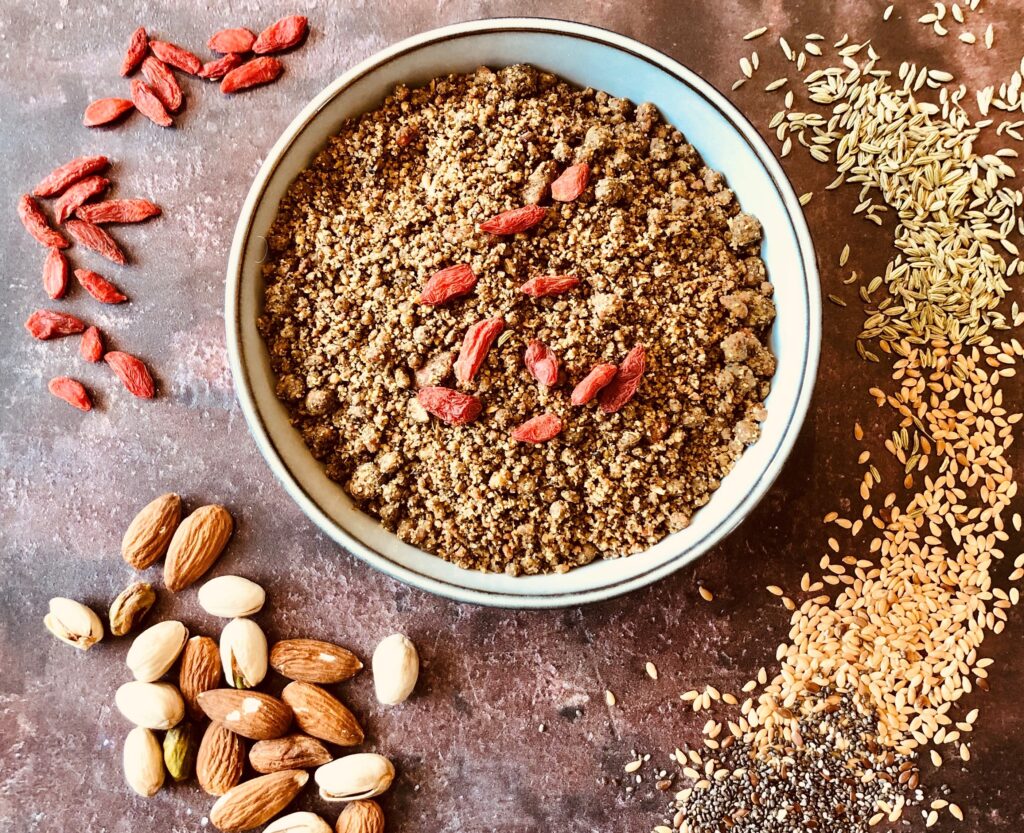 I made it for my daughter who delivered her second son recently. I'd have loved to have made it for my daughter in law too, when she delivered her son almost 2 years ago, but alas they live in Canada so I was not able to. Luckily we have family living close to her who obliged and I am pleased to say she ate it every morning, religiously to ensure she passed on the benefits of it to her son during those first 40 days.
This special time is known as 'shila or sava mahina' in the Punjabi culture and those first 40 days of confinement are very important to new mothers. She is expected to rest, eat the right foods and to just concern herself with her new born and her own recuperation following the trauma of childbirth. The whole family will step up and take responsibility to help out with daily chores and care of her other children. Housework and cooking meals is unheard of for a new mum. Neither she nor the baby will set foot outside the house in those first 40 days. I will never forget the wrath of my mother when a friend casually mentioned to her that she had bumped into me in a Mothercare store following the birth of my first child, 30 odd years ago. She explained to me that my body needed to recover and I would end up doing myself more harm than good if I didn't allow it to rest. I had 3 more children after that and trust me, I stayed indoors! As you can see there are many benefits of being part of an extended family.
Panjiri is made from whole-wheat flour, nuts, seeds, sugar, ghee (use dairy free butter if you like), dried ginger and anything else that is nourishing that you wish to put into it. Some people like to keep it in a powder form, some prefer it with whole nuts – however you like it – it is really good for you in small quantities. A few tablespoons with a glass of milk every morning is a great way to start the day. My daughter requested hers not be lumpy or with whole nuts so I made it exactly as she asked – even added Goji berries to it for her. See my recipe below, it should last you roughly a month.
Ingredients
3 cups of wholewheat flour – (you can use chapatti atta)
1 cup saunf (fennel seeds)
1 cup almonds
1 cup unsalted pistachio nuts
1 cup dried goji berries – optional
1 cup flax seeds
1 heaped tablespoon ajwain (carom seeds)
Half a cup of brown sugar
2 tablespoons of sondh (dried ginger powder)
1 cup of ghee or dairy free butter
Method
Dry roast all the nuts and seeds separately in a pan or skillet for 6 to 8 minutes on a medium heat and allow to cool, then grind into a fine powder in a chopper or blender – I use my Nutri Ninja – it works a treat – also grind the sugar into a powder
Melt the ghee in a heavy based pan and add the flour, cooking it on a medium heat until it turns a caramel brown in colour. If the flour is not cooked correctly the Panjiri will have a raw taste to it, so make sure you do this step right
Adding the ginger powder cook it for a further 2 minutes
Stir in all the ground nuts, seeds, sugar and berries if using them
Keep stirring the ingredients on a low heat until they have all warmed through
Allow to cool and store in an airtight container until required