Lightly Spiced Green Beans and Potatoes
My eldest daughter who is now in her 30's, suddenly decided to become a vegetarian when she turned 14. It was a bolt out of the blue and I was really having to put some thought into meals as I was now having to cook a separate vegetarian dish for her on the days the rest of the family were eating a meat dish. The best thing about her lifestyle change for me was that I started cooking a variety of vegetable dishes – rather than the known and trusted Aloo Gobi, Aloo Mattar or a Dal, so she also helped me to expand my cooking horizons somewhat as I needed to think further than my comfort zone when cooking vegetarian meals.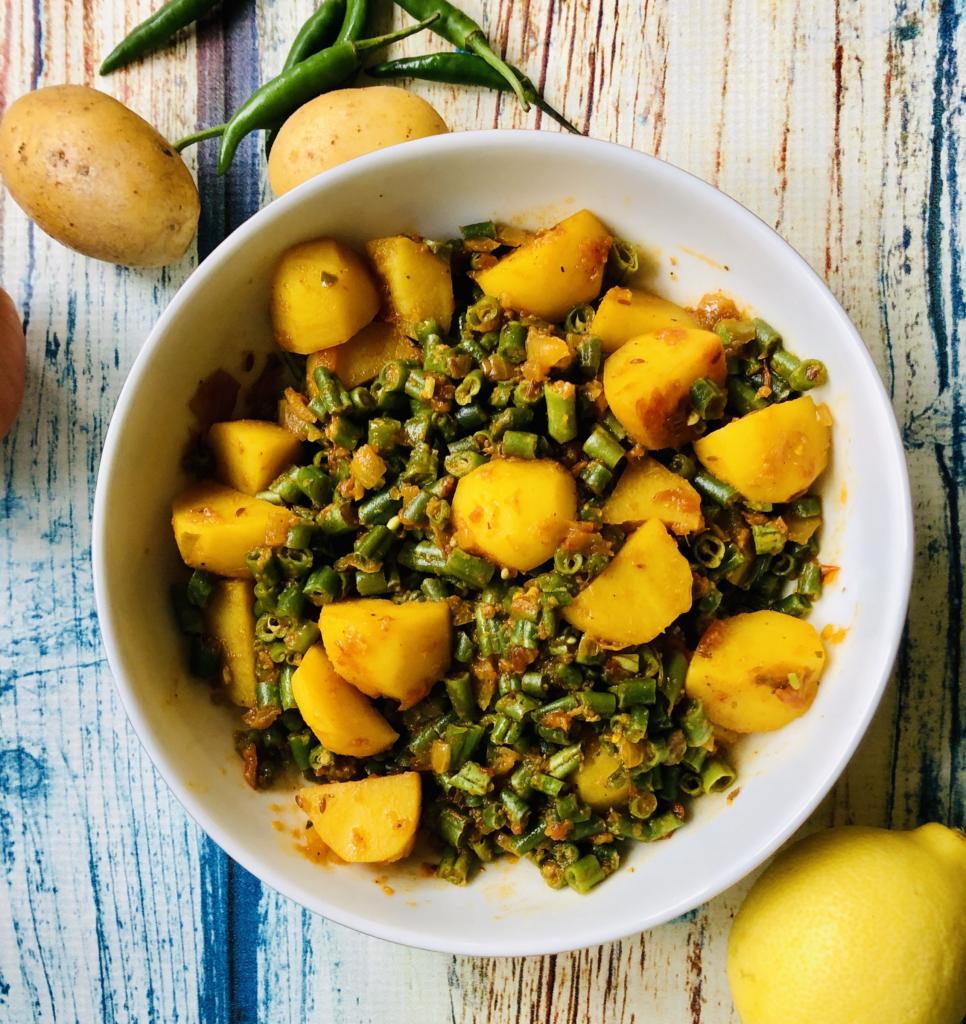 This is a fabulous light, fresh and healthy dish that I serve up a lot in the summer, as a side to a Dal or even on its own. It's packed full of nutrition and it was also a way to get kids to eat green vegetables. They are also a great dish to seek out of the fridge when looking for a light lunch.  Packed into half a pitta they are a really quick and easy lunch alternative to a sandwich. When I make them I cut them really small but when my mother in law cooked this dish back in the day, she used to just cut the beans into halves and stir fry them. The lemon juice gives the dish an added freshness and only adding a little garam masala is all that is really required from the spice angle.
Ingredients – Serves 4
2 x 200g packs of fresh green beans – top and tail and chop quite small (supermarkets sell them whole)
4 small potatoes – peeled and cut into halves or quarters depending on size
1 tablespoon of ghee or oil
1 tsp cumin seeds
1 tsp crushed coriander seeds
1 large onion diced
1 heaped tbsp garlic paste
1 heaped tbsp ginger paste
2 green chillies – finely chopped (to taste)
1 tsp achari masala – optional
1 tsp kashmiri chilli
1 teaspoon turmeric
½ teaspoon garam masala
Salt to taste
juice of a small lemon
Method
Heat the ghee/oil in a frying pan or wok with a lid
Add the cumin and crushed coriander seeds and then the onions as soon as the seeds start popping
Stir fry the onions until they are a lovely golden brown
Stir in your garlic and ginger and stir fry until you can smell the garlic cooking
Add the turmeric and and fry until the mixture has darkened slightly
Add the potatoes stirring well and also the salt, remaining dry spices and green chillies
Squeeze on the lemon juice
Cover and cook on a low heat until the potatoes are half done
Stir in the green beans and mix them into all the ingredients in the pan
Cover and cook until the potatoes break when crushed against the side of the pan and the beans are al dente – cooked but with a slight bite to them
Sprinkle on the garam masala and serve with freshly made roti or crispy paratha
You can find me on all social media channels under The Authentic Punjabee.