Toor Lentils with tempered spices
Tarka Dal is a very popular dish at Dhaba's (fast food stops) in the Punjab as the Dal can be boiled and prepared in advance and then revived with a quick Tarka just before serving. I love Tarka Dal as the sizzle it makes as you bring it to the table makes everyone sit up in their seats and take notice! (see video at the end of this page).
This Dal can be made using the Toor lentils pictured or Chana Dal. See my section on Lentils/Pulses.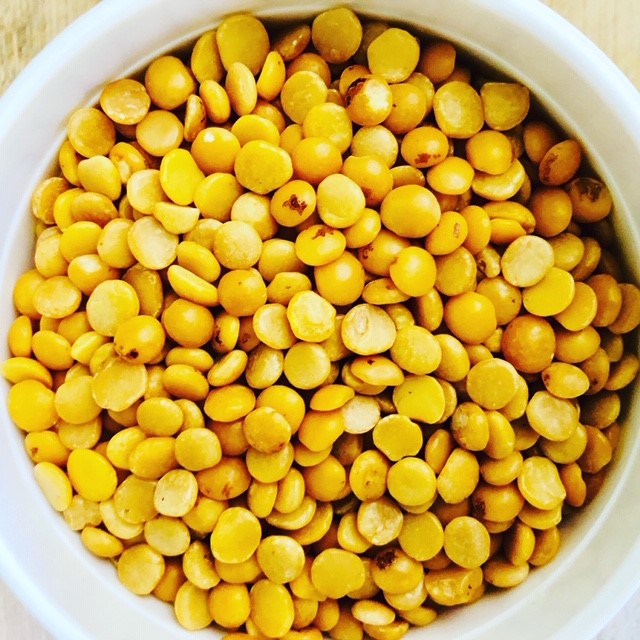 It's great with a side of Bhindi Masala or even a dry tinned fish (see recipe for Tamatar wali Macchi). Many Punjabi families outside of India make the tinned fish as a quick fix, and it's really tasty.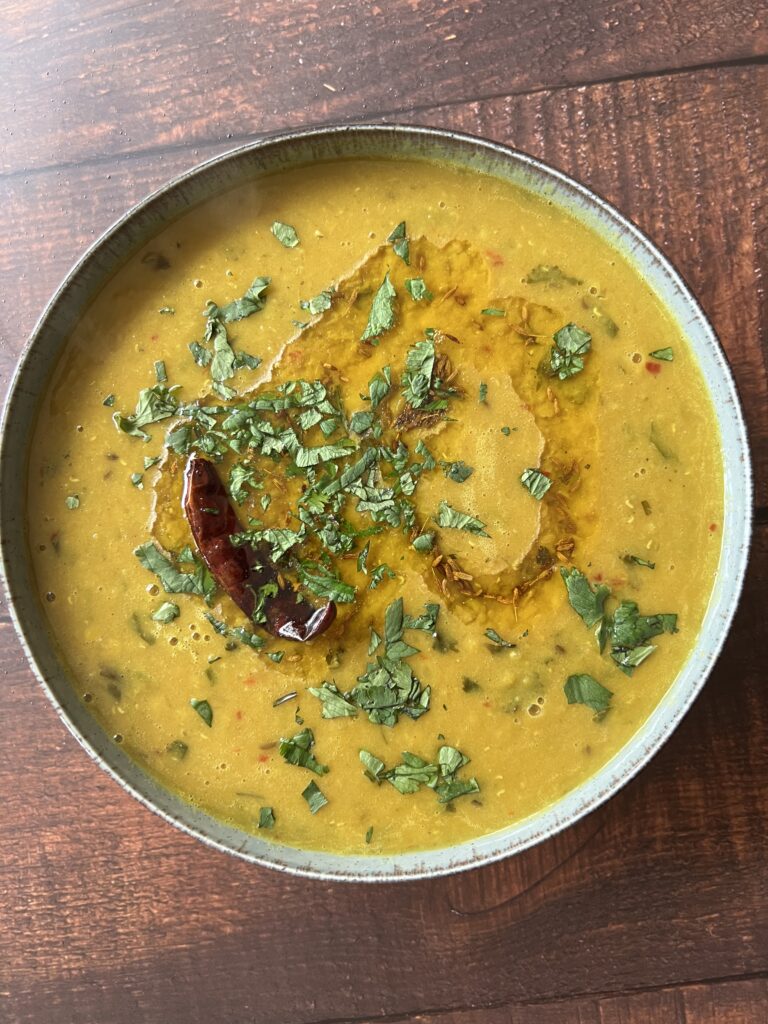 Ingredients
1 cup Toor or Chana Dal (I am using Toor dal)
1 litre of water
1 medium onion finely diced
1 large tomato finely chopped
2 tablespoons of garlic & ginger paste
1 tablespoon ghee
Half tablespoon lemon juice
1 teaspoon salt
1 teaspoon turmeric
1 teaspoon coriander powder
1 teaspoon garam masala
1 teaspoon red chilli powder
3 dried red chillies
¼ teaspoon hing (asafoetida)
Before serving
1 tablespoon oil or ghee, half teaspoon cumin seeds and dried chillies
Method
1) Soak 1 cup of the washed chosen lentils in cold water for 15 minutes ensuring its completely covered
2) Boil the lentils in 1 litre of water with the salt, garam masala, coriander and turmeric powders, until they are mushy but you can still see the shape of the grain
3) In a frying pan heat the oil and add the cumin seeds
4) Once they start to sizzle add the onion and fry until golden brown, add the garlic and ginger paste and cook until you can smell the garlic
5) Add the chopped tomato and lemon juice and cook on a medium heat until it has cooked down and the ghee has risen to the top of the mixture
6) Add the hing and the dried red chillies and cook further on a low heat
7) Now add this to the cooked lentils
8) When ready to serve – heat the oil or ghee in a small pan and add the cumin seeds and chillies until they sizzle – be careful you don't splatter yourself with the hot fat
9) Pour this mixture over the Tarka Dal and serve with roti, naan or rice.
You can find me on all social media channels under The Authentic Punjabee.
Facebook / Instagram / Tiktok / Youtube