Lamb chops cooked in garlic, ginger and my special spice mix
Chumpa was my Dad's word for Lamb Chops. I never questioned why he called them chumpa instead of chops as I always assumed it was the Punjabi word for them. However, it was much later in life (after marriage actually) that my husband explained just why Dad called them 'Chumpa'. When he arrived into the UK, there were no Indian butchers local to him so he would collect his meat from an English butcher, who would sell him Chump chops which come from the loin area of the lamb. The chops we get from an Indian butcher are usually from the ribs and they include a rib bone and are a lot thinner, making it very easy to eat 4 – 5 ribs in one sitting.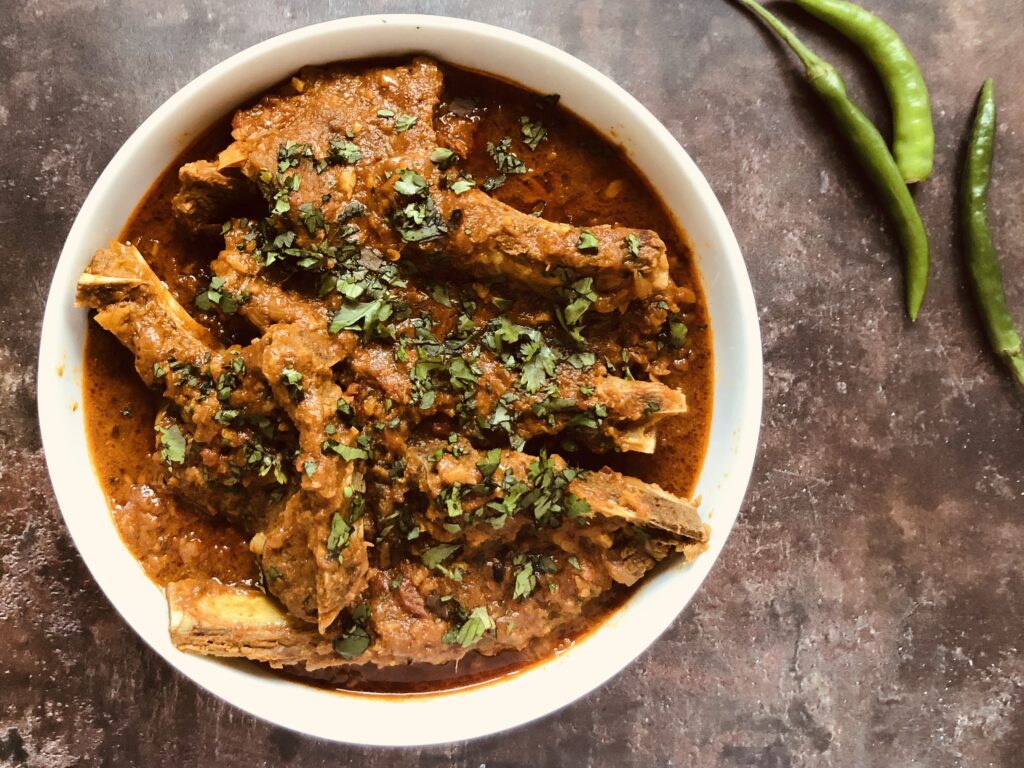 This particular recipe is a slight tweak to the way they were cooked when I was younger. I like to play around with spices and ingredients and in doing so created my own little spice mix that really complements the red meat. Many people like to add yoghurt to a dish to create a creamier sauce – however I have kept these chops really rustic, by using the yoghurt in a marinade (it will help with the tenderizing of the meat) with lots of ginger and garlic – and then used chopped, not minced or pureed ginger, garlic and chillies in the sauce too. It's an individual choice, so feel free to puree if you wish, however the occasional hit of ginger in the mouth makes this all the more special for me and that and the Achaar (Pickle) are the two things I have kept in it that are very reminiscent of the way my Dad cooked them.
The spices I have chosen are dry roasted and ground into a powder which I have added to the marinade, and the meat only needs to be marinated whilst you are cooking the Tadka, so it can be kept at room temperature. Ribs can be a little fatty and will release their own oil during the cooking process so you only need to use a tablespoon of oil.
Ingredients – Serves 4
Preparation time 20 mins, cooking time 60 mins
Spice mix
Dry roast the following ingredients in a pan and then grind once cooled
1 teaspoon – coriander seeds
1 teaspoon – black peppercorns
1 teaspoon fennel seeds
2 teaspoons cumin seeds
1 cinnamon stick – 2 inch piece
2 cloves
Marinade
12 – 15 rib chops
3 inch piece of ginger – chopped
5 cloves of garlic – chopped
3 green chillies – chopped
1 cup of natural yoghurt
Spice mix
1 teaspoon salt
Tadka
1 tablespoon cooking oil
1 large onion diced
3 inch piece ginger – chopped
5 cloves of garlic – chopped
3 green chillies – chopped
1 cinnamon stick – 2 inches
2 black cardamom
1 teaspoon turmeric powder
1 teaspoon of mango pickle – pulp & flesh or 1 teaspoon achari masala (optional)
1 x 400g tin of plum tomatoes – blend these with the mango pickle and chillies
1 teaspoon salt
1 teaspoon kashmiri chilli
1 teaspoon garam masala
Method
Mix all the marinade ingredients together and cover the chops with the mixture and set aside
In a deep based pan heat the oil and add the cinnamon and cardamom
Stir in the chopped onions and cook until they are almost dark brown in colour
Add chopped garlic and ginger, stir fry for a couple of minutes and stir in the turmeric
Pour in the blended tomatoes, chillis and mango pickle and cook on a medium heat until the oil starts to rise to the top and form little wells in the mixture
Add the salt, kashmiri chilli and garam masala and cook for a further 5 minutes before stirring in the chops, adding all the ingredients from the marinade too
Cover and cook for 45 – 50 minutes on a low heat or until the meat starts to break away from the bone
Serve on their own as a starter or with a crispy naan or chapatti as a main dish
You can find me on all social media channels under The Authentic Punjabee.