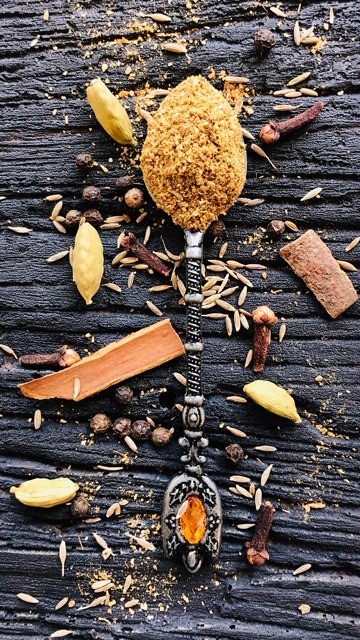 Garam Masala is widely used in Punjabi cooking. It is a combination of many of the spices put together to make one complex spice blend and because of this, it goes into most dishes. Garam means hot – so this can add more heat to a dish.
Whole spices of cinnamon, mace, peppercorns, coriander seeds, cumin seeds, and cardamom pods are toasted in a pan to release their aromatic flavors, then ground to a powder. I don't use mace – however I do sometimes tailor my Garam Masala to the dish I am creating. So I could make one that is subtly spiced for a Dal Makhani – yet make a fierier one for my Shaukheeni Gosht.
Play around with the spices and see what works for you. I enjoy experimenting with them and trying out different flavours with different dishes. But do bear in mind that some of the spices can be quite hot – black peppercorns for example.
Check out the recipes for the Dal Makhani and the Shaukheeni Gosht – and also check out how to create your own Garam Masala
Alternatively, you can buy it by the packet from most grocers and supermarkets and online – see below link