Butter Chicken is a favourite in my household and I usually make it as a treat, because it is such a stunning dish, the family does ask for it all the time. This is my take on the dish, as living in the UK and having sedentary lifestyles doesn't allow for ghee or oil laden dishes, so I created my own version of it. It's packed with flavour and as I haven't used cashew nuts, it's not a risk to those with nut allergies. See, I think about everyone! For the non dairy option just omit the natural yoghurt and butter for a vegan substitute and maybe drop the cream altogether.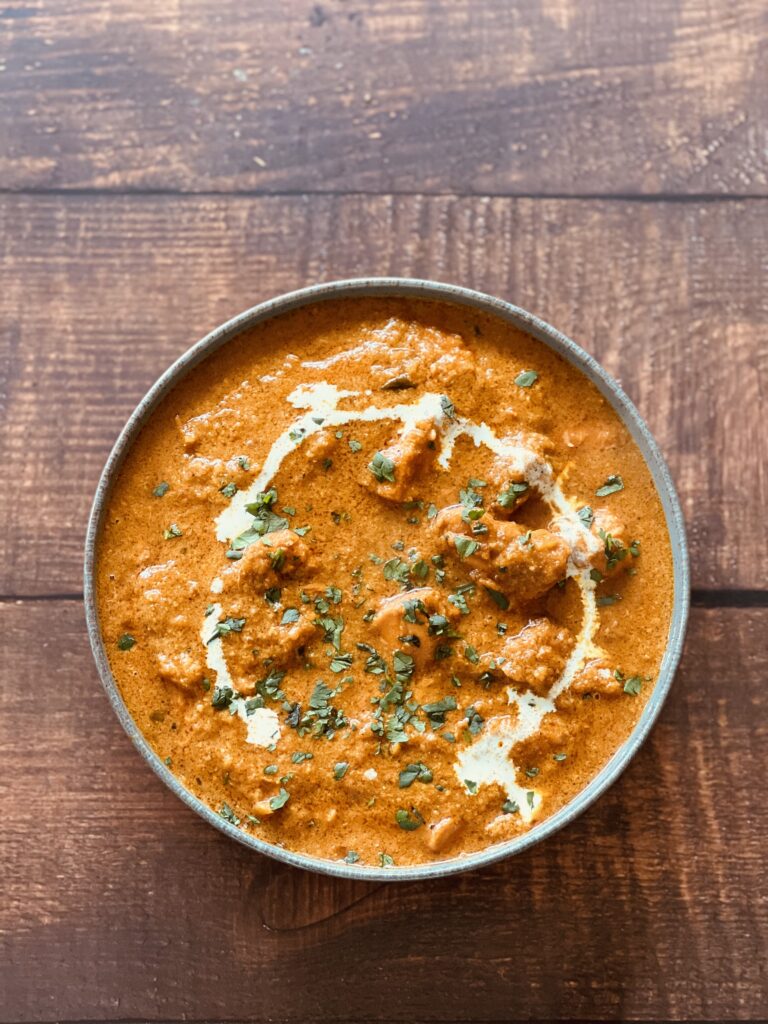 Recipe – Serves 6 (Adjust ingredients accordingly)
Marinade
3 large chicken fillets or boneless thighs cubed – not too small as will be roasted in oven so need to stay tender – if using fillets marinate for longer
5 loaded tablespoons of plain yoghurt
Ginger and garlic paste – adjust quantity to your taste, I use lots!
Juice of half a lemon
1 teaspoon red chilli powder – or to your own taste
1 teaspoon coriander powder – or to your own taste
1 teaspoon cumin powder – or to your own taste
1 heaped teaspoon dried fenugreek leaves
Salt to taste
Marinate for at least 4 hours or over night for the best flavour
Heat the grill to its highest setting
Mix all the above ingredients bar the chicken in a large bowl until you have a creamy mixture
Add the chicken cubes ensuring all the pieces are coated
Cover with cling film or transfer to a zip lock bag and store in the fridge for a minimum of 3 hours – the more you keep the meat in the marinade the better the result.
Transfer the chicken to skewers and place under the hot grill and cook for about 7-8 minutes on each side – until slightly charred on the outside. Slice a piece of chicken in half to ensure it is cooked through
If you don't have a grill stir fry in a little butter or oil in a non-stick pan until cooked through and keep aside while you prepare the sauce
Butter Sauce
1 tablespoon of cooking oil
100g of butter
1 large onion or 2 small onions diced
1 heaped tbsp of garlic paste
1 heaped tbsp ginger paste
3 green chillies – chopped finely
1 tin of plum tomatoes – pureed
Coriander stalks – chopped finely – optional
5 green cardamom pods
1 teaspoon of red chilli powder – optional
1 teaspoon of coriander powder
1 teaspoon of garam masala
1 teaspoon of salt or to taste
1 teaspoon of sugar
1 teaspoon of turmeric
1 teaspoon of dried fenugreek leaves
¼ teaspoon of cumin seeds
100ml double cream
Handful of chopped coriander leaves
Heat the oil and butter together in a deep heavy based pan – do not let the butter burn
Add the cumin seeds
When the seeds start to pop add the diced onions
Cook the onions until they start to take on a golden tinge
Add the garlic and ginger paste
As soon as you smell the garlic cooking add the turmeric powder
When the ingredients begin to stick together add the blended tomatoes, chillies and coriander stalks
Stir thoroughly and add the chilli, coriander powder, garam masala, sugar, salt and cardamom pods
Take the dried fenugreek leaves between both palms and rub together to release the flavour and add to the mix
Cook the mix on a medium heat until the oil rises to the top and you should now have a thick paste like mix – loosen this slightly by adding hot boiled water
Allow to cool for 30 mins then transfer to a blender or use a blending stick – be very careful as the mixture will be very hot – and blend until you have a nice silky smooth consistency
Return to the pan and reheat for 5 mins
Add the cream – stirring in slowly as you do not want it to curdle
Add the chicken pieces and stir into the sauce
Garnish with chopped coriander and serve with roti, naan or rice
You can find me on all social media channels under The Authentic Punjabee.
Facebook / Instagram / Tiktok / Youtube