Minced lamb and peas cooked in spices
Keema Mattar is such a beautiful dish – the combination of the spicy lamb mince and the sweetness of the peas when they pop in your mouth is so good. If you keep the dish with a slight sauce it's even better as it keeps the mince juicy and moist.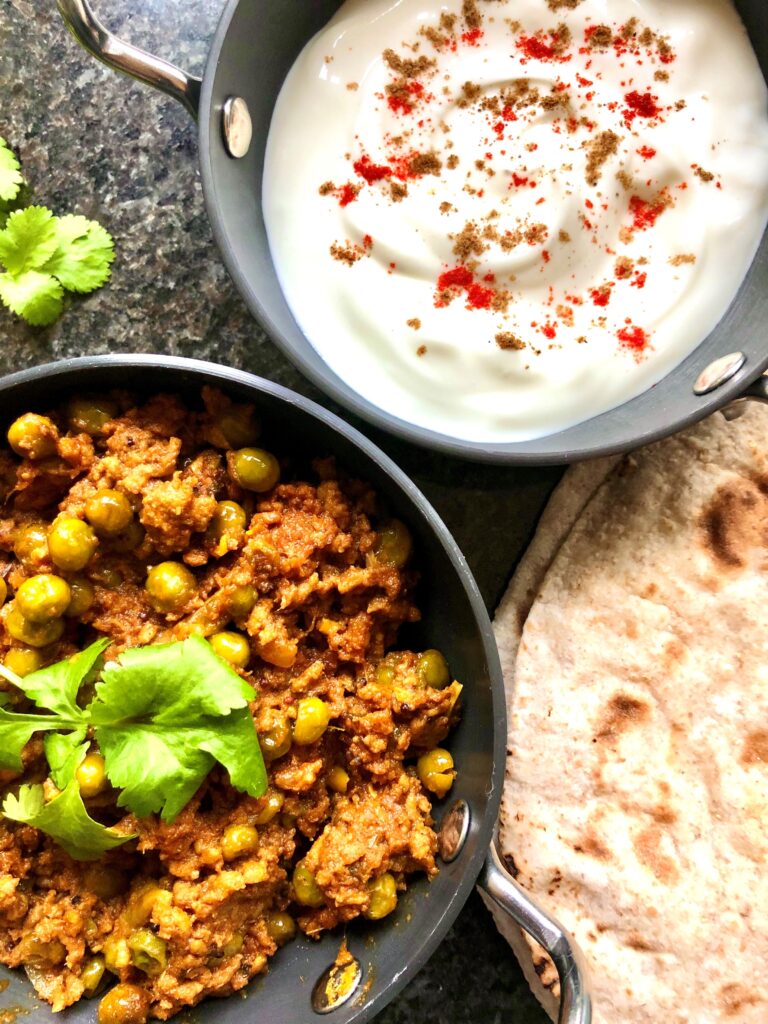 Cooked often during my childhood, as my Dad was a keen cook when it came to meat dishes, he would make the extra effort of going to the butcher and choosing a leg of lamb to be made into mince and would ask the butcher to throw in the bones too as per my Hadiwala Keema recipe. But occasionally he would cook it without the bones and make sure the masala for it was so flavourful it was still absolutely amazing. I sometimes use the left over Keema for Keema Paratha which is another fabulous dish in itself.
Ingredients – Serves 4
1 tablespoon oil
1 inch piece of cinnamon stick
2 black cardamom
1 teaspoon cumin seeds
Half teaspoon black mustard seeds
1 teaspoon crushed coriander seeds
1 large finely diced onion
1 heaped tbsp ginger paste
1 heaped tbsp garlic paste
1 teaspoon turmeric
400g plum tomatoes – pureed
4 finely chopped green chillies – or to your taste
1 teaspoon kashmiri chilli
1 teaspoon garam masala
1 teaspoon coriander powder
1 teaspoon dried fenugreek leaves
1 teaspoon salt
2lbs of minced lamb meat
1 cup of peas
Fresh coriander leaves for garnish
Method
Heat the oil in a heavy based pan and add all the seeds and cinnamon and cardamom
Add the onions to the pan as soon as the seeds start spluttering in the pan
Fry the onions until golden brown then add the garlic and ginger pastes
Sauté for a couple of minutes before adding the turmeric.
Add the tomatoes and turn the heat up a little and cook until the moisture from the tomatoes begins to evaporate
Add the green chillies and the remaining powdered spices and salt and cook for another 5-6 minutes
Now add the washed mince and stir fry with all the other ingredients for a couple of minutes
Turn the heat low, cover and allow to simmer for 15 minutes
Add the peas and cover and cook for another 10 minutes
Once the meat has cooked through, garnish with the chopped coriander and serve with a fresh roti or naan