Indian cheese cooked in a thick spicy spinach sauce
Palak Paneer is a lovely combination of velvety spiced spinach cooked with delicious cubes of paneer. Many people choose to fry the paneer before adding it to the spinach – however I prefer to toss it in with the spinach as it cooks, which makes it a healthier alternative too. It's a really beautiful accompaniment to any Dal, as well as on it's own See my recipe below.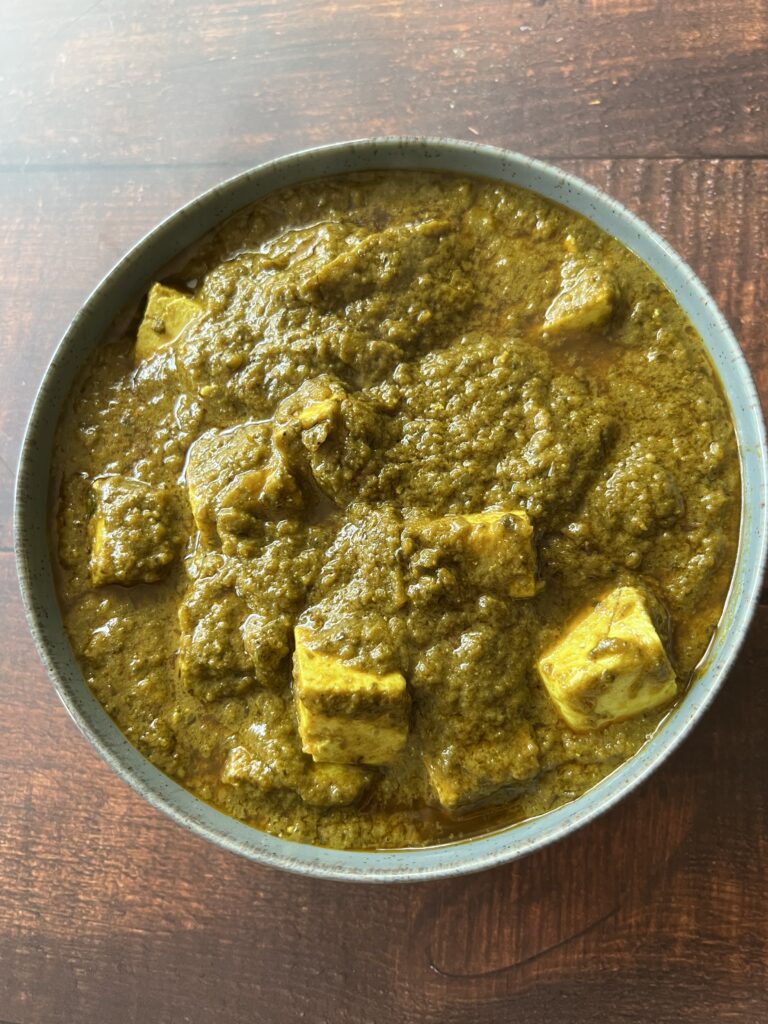 Ingredients – Serves 4
750g of washed spinach – blanch, drain, squeeze out excess water and finely chopped or run through a chopper to puree
500g of paneer – cut into 2cm cubes
1 tbsp oil or ghee
1 tsp cumin seeds
1 large onion diced
1 tbsp garlic paste
1 tbsp ginger paste
1 tsp turmeric
2 green – chillies finely chopped
1 tbsp – tomato paste/puree
1 tsp salt
1 tsp garam masala
Method
Heat the oil in a heavy based pan and add the cumin seeds
Once they begin to sizzle add the diced onion
Sauté until they start to turn slightly golden in colour then add the garlic and ginger paste
Once the raw smell cooks off add the turmeric (do not let the garlic/ginger burn)
Add the tomato puree/paste and green chillies
Cook on a medium heat, stirring all the time until the oil comes to the surface and add the salt and garam masala, sauté for a couple of minutes then toss in the cubes of paneer
Cook them lightly for a 2-3 minutes, turning regularly
Add the chopped spinach, mixing well
Cover and cook on a low heat for 15 minutes
Serve with a crispy paratha, roti or naan.
You can find me on all social media channels under The Authentic Punjabee.
Facebook / Instagram / Tiktok / Youtube