Creamy Slow Cooked Black Lentils and Red Kidney Beans
This dish is divine, and made the old school way it stirs up so many memories. Simmered over a low heat for at least 2 plus hours – no pressure cooker (although feel free to use it if you wish) – garlic and ginger pulverised using a pestle and mortar – home made Garam Masala tailored to this dish especially (check out the separate video). When cooked in the Punjab it can be cooked for up to 8 hours to really slow cook it and get that creaminess from the lentils.
It's really rustic, takes me back to the days when my husband and I would visit the Lahori Karahi restaurant in Southall, where the team would cook behind a glass screen in view of the diners – and they would serve up the creamiest version of this Dal in a Karahi (small wok) alongside the crispiest of buttery naan. My mouth still waters when I remember those times. My version of this dish is just as creamy and mouthwatering – I'm just not so liberal with the butter and the cream, however I am using ghee which adds to the creaminess. Although, please don't stop on my account and add as much as you like! It's a really hearty and warming dish. My family loves it! This dish can be created using vegan butter or oil as you will still get the creaminess from the lentils themselves.
Ingredients – cooking time 3 plus hours or 1 hour if you use the pressure cooker
2 cups of Urid Dal – black lentils and ½ cup of red kidney beans soaked overnight – wash in 4-5 changes of water, and spill again and boil in fresh water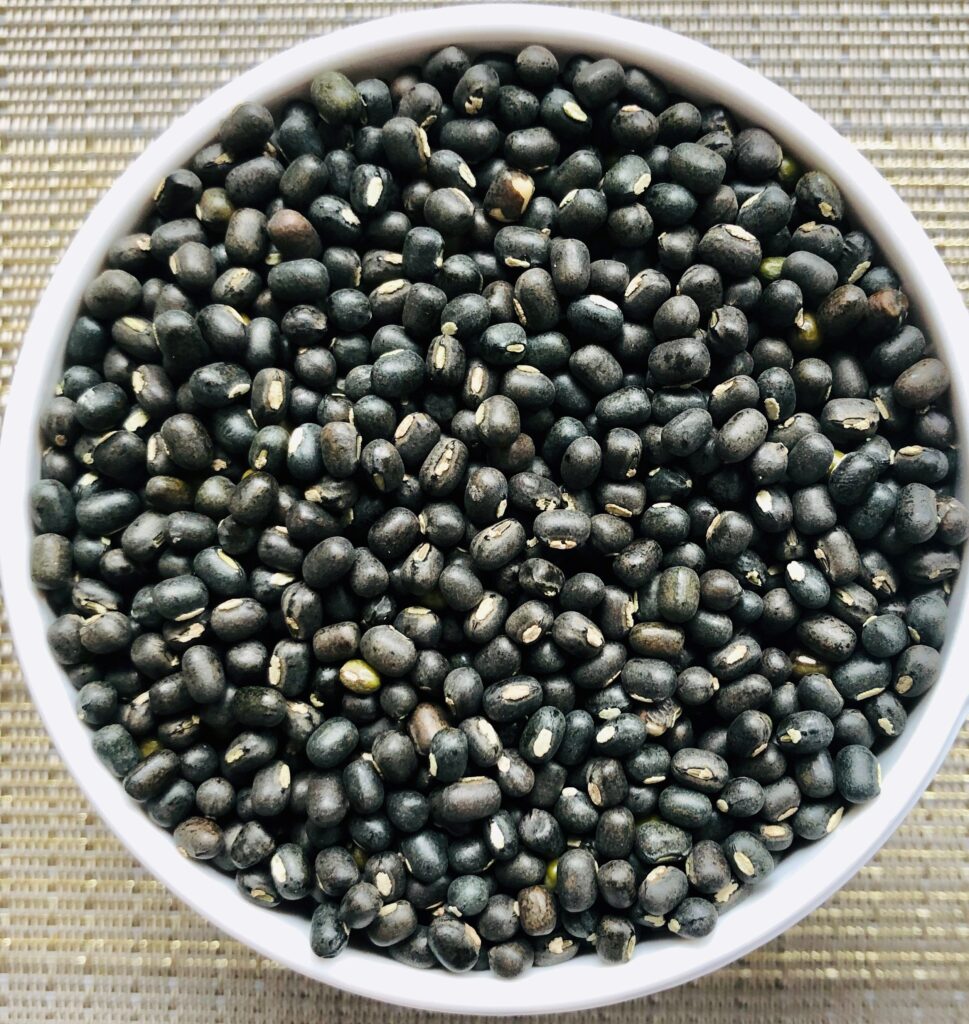 2 bay leaves
2 each of black and green cardamoms
1 inch cinnamon stick
3 dried red chillies
1 tablespoon of ghee
1 large onion finely diced
2 fresh curry leaves or 6 dried leaves
1 teaspoon of cumin seeds
¼ teaspoon hing (asafoetida)
2 inch piece of ginger
4 garlic cloves
1 large tomato chopped finely
1 tablespoon of tomato puree
½ teaspoon of Kashmiri chilli
1 teaspoon of salt
100g butter
Cream to finish
Handful chopped coriander leaves – optional
½ teaspoon garam masala – (see how to make Garam Masala recipe)
Method
Boil the lentils and kidney beans in a litre of water add the bay leaves, cardamom, cinnamon and dried red chillies bring to the boil and scrape of any foamy residue the lentils may bring to the surface
Turn down the heat and cover and cook for as long as it takes to cook down the grains until they are beginning to get mushy, but not completely cooked down – allow the grains to keep their shape
Keep topping up the water using boiled water from the kettle if you feel it's starting to dry out until they are cooked
Once cooked, drain them but DO NOT discard the water, keep it for later in the cooking process but DO remove the whole spices and throw them away
In a separate heavy based pan start your Tadka – heat up the ghee and throw in the curry leaves, cumin seeds and hing – and give them a quick stir
Add the onions and fry them until they become a lovely golden colour
Crush or blend your garlic and ginger into a paste – it doesn't need to be too pulverised as it will cook down into the Dal. Add to the onions
As soon as you can smell the garlic, consider both ingredients are cooked, and you can now add your chopped tomato and the tomato puree. Cook this mixture down until it thickens, also adding the Kashmiri chilli at this point
Your Tadka is now ready for you to add your cooked lentils. Stir them in slowly ensuring they completely soak up all the beautiful flavours in the pan, cook further for another 5 or 6 minutes
Using the water you kept back – add a pint of it to the lentils (this water should be really creamy) and covering the pan, turn the heat down really low and cook for another 20 to 25 minutes. Keep an eye on it – don't allow all the water to evaporate, if you feel it's starting to dry out, add a little boiled water
After this time – your Dal is almost ready. Add the butter and stir it in well, and you can also add half a teaspoon of the garam masala at this point.
Drizzle with cream before serving – and enjoy with a crispy buttery naan or tandoori roti