Colourful mixed vegetables cooked in ghee and spices
When shopping for the week I always pick up peppers and carrots as I know they get used up quite quickly in whatever I have on my meal plan for the families meals. I try to put vegetables in most dishes, whether it's a spaghetti bolognese, stir fry, shepherds pie or a Punjabi meal – veggies go into the dish as well as accompany it. At the end of the week I gather any of the left over vegetables and create a quick Sabji cooking in ghee with some light spices. Use whatever vegetables you like – just bear in mind that some vegetables cook a lot faster than others. I always cut my carrots really small as they take the longest to cook, and the potatoes a little larger. Peas and peppers just need a very quick toss in the pan in the last 10 minutes of the cooking process. You can add fresh coriander at the end to this dish, but I sometimes believe certain flavours do very well on their own, the sweetness of the carrots and peas against the zesty ginger and nutty cumin and the ghee lending a little indulgence without the guilt factor – no need to throw something else into this mix.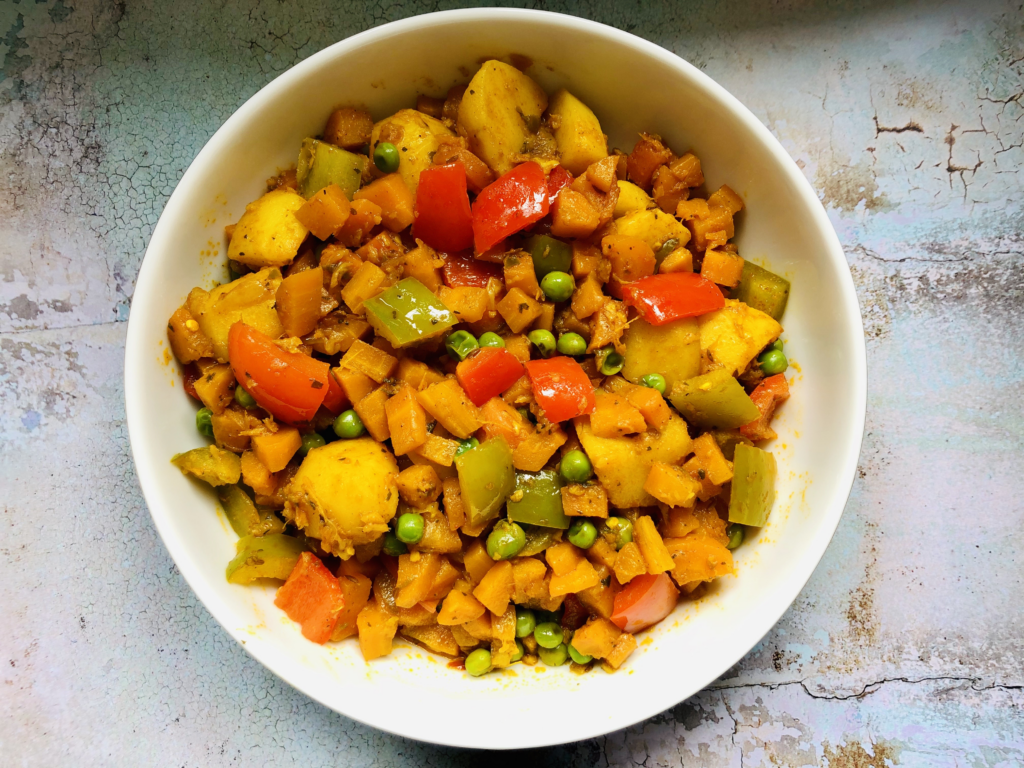 This is a really great light summer dish – lots of fresh vegetables, fresh garlic and ginger, a few light spices and a sprinkle of garam masala to finish it off. A truly happy kind of dish, I think you'll enjoy this. We love it!
Ingredients
1 tablespoon oil or ghee
Half teaspoon cumin seeds
I large onion – roughly chopped
4 garlic cloves minced
2 inch piece of ginger minced
2 green chillies chopped finely
1 tablespoon of tomato puree
1 teaspoon of salt
1 teaspoon of dried fenugreek leaves
4 carrots chopped finely
4 baby potatoes quartered
Half a red pepper cubed
Half a green pepper cubed
Half a cup of frozen peas
Half teaspoon garam masala
Method
Heat the ghee in a heavy based pan and add the cumin
Add the onions when the cumin seeds begin popping in the ghee
Cook the onions until translucent and add the garlic and ginger
Once you can smell the garlic add the turmeric to the pan and stir well
Your mixture should be a sticky consistency now
Stir in the tomato puree and green chillies and cook for a couple of minutes
Add the salt and the dried fenugreek leaves – rub them between your palms to release their flavour before adding to the pan
Stir in the carrots, ensuring they are covered in all the ingredients already in the pan
Cover and cook on a low heat for 10-15 minutes
Stir in the potatoes and add half a cup of boiled water to the pan and cook for a further 10 minutes
Stir in the peppers and peas and stir fry on a medium heat for 7-10 minutes or until all the vegetables are cooked.
Sprinkle with a little garam masala and serve with fresh, hot chapattis