All that is green and healthy!
Nothing can be more quintessentially Punjabi, than Saron da Saag – a winter delicacy made in North India with fresh mustard greens and other green leafy vegetables. No dish from the Punjab, conjures up more powerful nostalgic memories of Punjab, than this earthy, hearty and honest vegetable dish full of antioxidants and nutrients.  When I think of why this dish is the undisputed monarch of Punjabi dishes, in terms of its connection to the land and culture, it is because it is the one which unites all Punjabi's. The breadbasket of India, Punjab is home to the most fertile agricultural lands in the subcontinent, and nothing symbolises that link more than this honest farmers' dish, a celebration of the harvest from the earth of Punjab. Commonly cooked during the winter and early spring when it is available in bundles, Saag is not a regional dish from one area of Punjab, but rather one loved from all corners. Its simple vegetarian make up of mostly mustard greens, unifies all Punjabi's of all classes and religions as all can share this meal.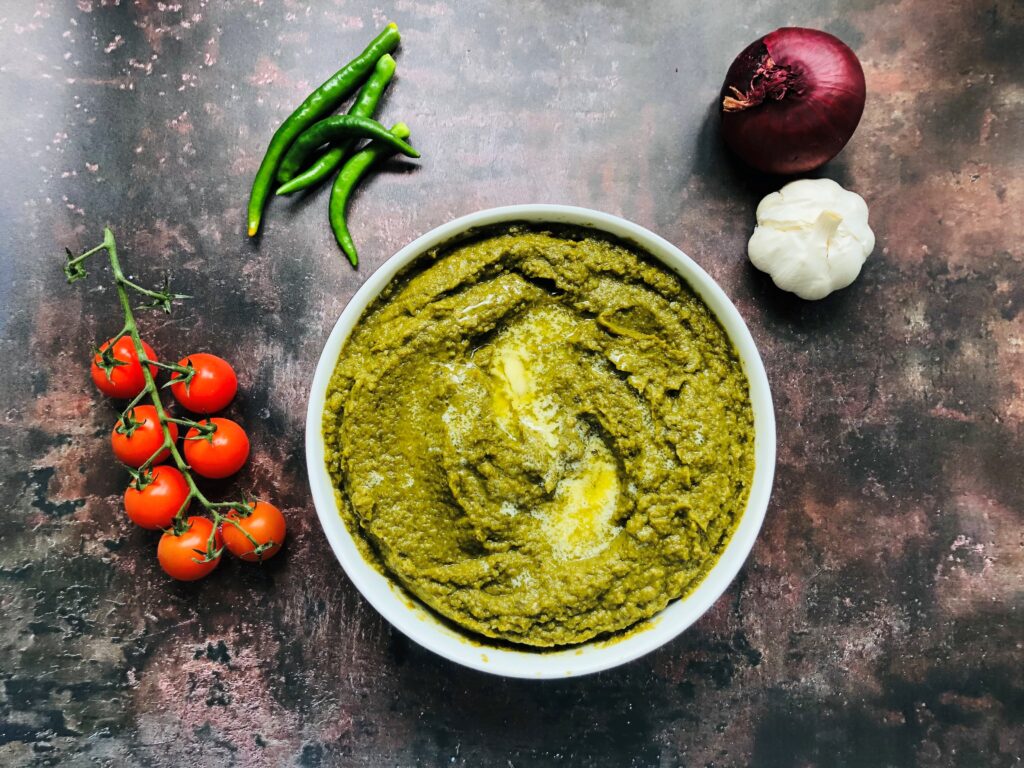 In my home and I am sure most Punjabi homes, Saag was a cause of celebration, enjoyed on auspicious occasions such as Lohri, Vaisakhi (originally the celebration of the spring harvest season, and then in 1699 the birth of the Khalsa, Sri Guru Gobind Singh Ji).
I can still remember Saag day in my childhood home. Mum would spend the whole day in the kitchen, as saag would be made to last many days, it would be cooked and then also sectioned up and shared with other local family members too. As Mustard Greens were not available here, we would use spring greens and add fresh fenugreek, spinach, cabbage, whatever we could get our hands on at that time – the list was endless.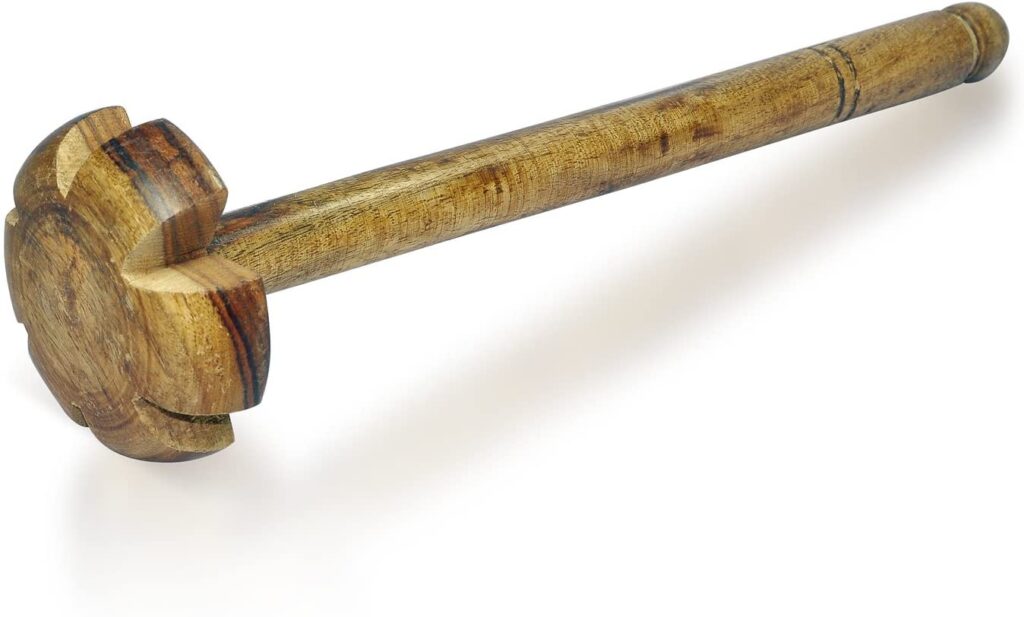 The creation of saag in our home as I am sure it was in many other Punjabi homes was almost a family event. When binding it with the cornmeal towards the end of the cooking process, Mum would add it slowly, a little at a time, and Dad would mix it in very quickly using a 'Madani', which was a rounded piece of wood attached to a long stick and Dad would swivel it around in the saag, making sure the cornmeal was blended into it really well without creating any lumps, leaving it silky and creamy.
In my kitchen, I have the option of using all the mod-cons to make the preparation and the cooking process a lot easier. However, I still use the old fashioned way of cutting it by hand, although I use a knife and cooking it in boiling water until the ingredients cook down slowly, rather than cooking it really quickly in a pressure cooker and losing all its nutritional value. Saag is another dish that needs time and effort in my book. I do cheat when it comes to adding the maize at the end of the cooking process though, I use my hand blender and it gives me the same creamy consistency required for a beautiful bowl of saag. I sometimes keep some in the freezer and will stir it into left over chicken or lamb. Chicken Saag or Lamb Saag are always appreciated – and sometimes I even fry up some pork and stir it into the Saag,….it's delicious!
Below are the ingredients I used for my Saag – but feel free to use spinach, fresh fenugreek and any other leafy green vegetables you wish.  I used whatever I could get my hands on during the UK lockdown. Be sure to wash all the vegetables thoroughly before preparing them for cooking and if you are using a pressure cooker then cook until they are really soft.
Ingredients
500g spring greens roughly chopped
200g curly kale roughly chopped
1 medium savoy cabbage roughly chopped
1 large broccoli broken into small florets
1 medium red or white onion diced
4 inch piece of ginger minced finely
6 cloves of garlic minced finely
3 – 4 green chillies minced finely
2 tablespoons ghee/butter/dairy free butter
2 teaspoons salt
1 teaspoon garam masala
1-2 cups of cornmeal or maize to thicken and bind the greens
Method
Fill a large pan with water and the salt and bring to the boil
Add the finely chopped greens and lower the heat to medium and cook uncovered until they begin to change colour and then add the chopped kale, cabbage, and broccoli and continue cooking on a medium low heat until tender. Add more boiled water if it begins to evaporate – you need to keep moisture in the pan and not allow it to dry out completely
Once the vegetables have cooked down and there is barely any water in the pan, blend the greens using the hand blender and add the maize gradually – also add the garam masala at this point and check the seasoning, add more salt if required. You want your Saag to look like the video below. It should not be watery – more a thick but smooth and creamy consistency
Tempering
In a separate pan – melt the ghee/butter/dairy free butter, add the diced onions and fry until the onion begins to turn a light gold in colour
Add the garlic, ginger and chillies and stir fry for a couple of minutes
Pour this sizzling tadka over the saag and stir well
Serve with a huge helping of ghee, butter or non dairy butter, crispy makki di roti or chapatti and fresh yoghurt