Cardamom & Pistachio no churn ice-cream
Many people love Ras Malai which is a dessert made from Indian cottage cheese which has been shaped into little dumplings, sweetened and then soaked in reduced milk, laced with saffron, cardamom and, with chopped pistachios for the garnish. Gulab Jamun being little fried dough balls dunked in a cardamon syrup. The process for these is long and can take a couple of hours to complete. I make these desserts every now and again, when I have the time to give to them.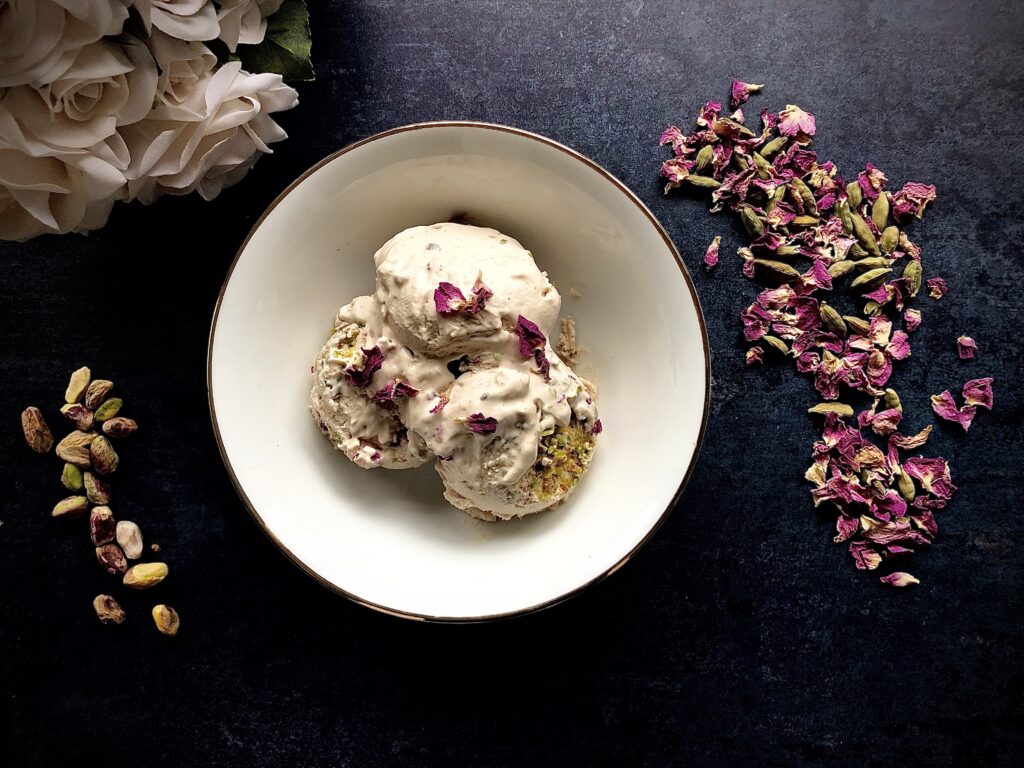 However, sometimes I don't have the time and want a quick dessert which I can rustle up with minimum fuss, time and effort at short notice, so I developed the next best thing. Cardamom & Pistachio flavoured ice-cream – the flavour of both desserts rolled into one! All the flavour and minimum fuss and you don't even need an ice-cream maker. What could be simpler?
Please don't forget to follow me on Instagram and Facebook under @authentic_punjabee for new recipe updates!
Ingredients – Serves 6
500ml double cream
120ml sweetened condensed milk
1 teaspoon cardamom powder
2-3 drops of red food colouring
1 tablespoon of rose water
chopped pistachios – as much as you want
edible rose petals for garnish – optional
Method
Tip the cream into a mixing bowl with the cardamom powder, rose water and food colouring and whisk until it forms soft peaks (do not over whisk)
Slowly fold in the condensed milk
Transfer to a lidded freezer container and sprinkle on the chopped nuts and rose petals
Freeze for a minimum of 4 hours
Remove from freezer 20 minutes before serving