Prawns in a lovely, spicy tomato masala served on a deep fried Puri (roti)
Prawn Puri is one of the most ordered starters at Indian restaurants and also one of my family favourites too. Although served as a starter in restaurants, I sometimes serve it as a main meal as, seriously speaking, just one of these beautifully crispy Puri's topped with deliciously juicy prawns is never enough.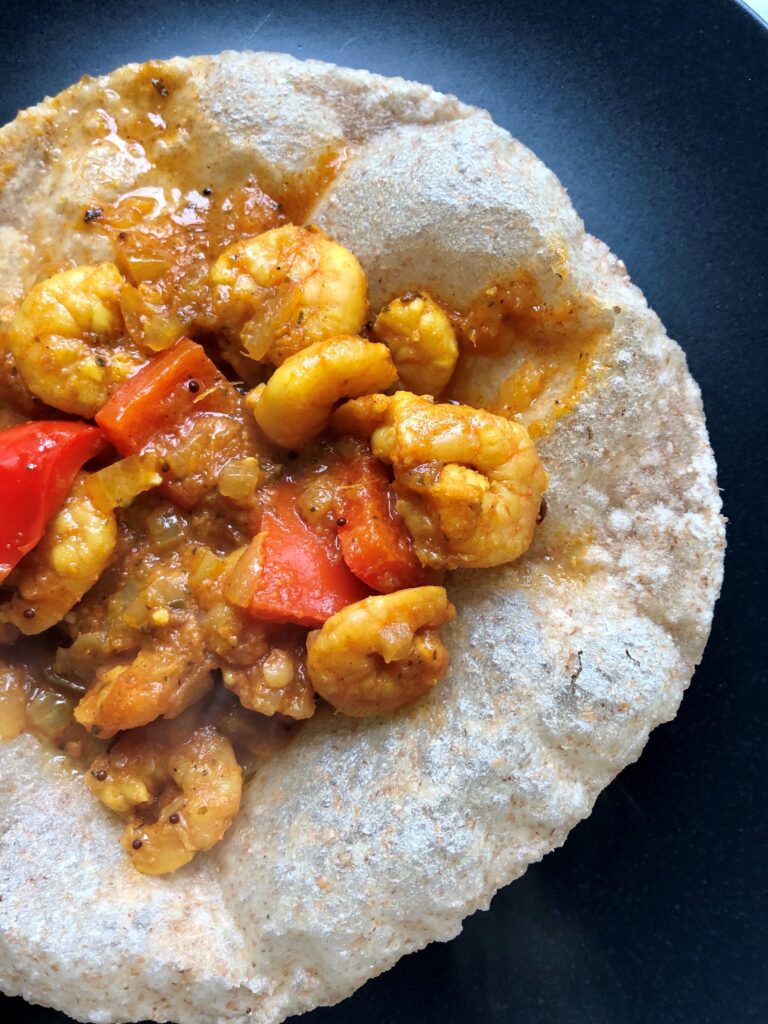 My family love this dish, my younger son especially, he loves seafood and whenever we eat out as a family, he is nearly always orders a fish starter or main course.
This particular dish is always welcomed. I like to add red bell peppers to my prawns, as I love the sweet flavour of them against the tanginess of the spicy masala – so, so delicious! You can also use peeled, cooked prawns if fresh are not available.
Served on top of a hot crispy Puri that is just beginning to soak up the flavours of the sauce, it's an amazing taste sensation – you really should give this dish a go if you have not yet tried it. Recipe below….
Don't forget to check out the video below and like and subscribe to my YouTube channel – under AuthenticPunjaBee and you can follow me on Instagram and Facebook under @authentic_punjabee for new recipe updates.
Ingredients – serves 4
1 tablespoon oil
1 teaspoon cumin seeds
1 teaspoon black mustard seeds
1 large finely diced onion
1 heaped tbsp ginger paste
1 heaped tbsp garlic paste
1 teaspoon turmeric
400g plum tomatoes – pureed
4 minced green chillies – or to your taste
1 teaspoon kashmiri chilli
1 teaspoon garam masala
1 teaspoon coriander powder
1 teaspoon dried fenugreek leaves
1 teaspoon salt – or to your taste
500g peeled and cooked King Prawns
1 large red bell pepper, seeds removed and cut into cubes56
Fresh coriander leaves for garnish
Puri
Oil for deep frying
Chapatti dough (see my recipe for Chapatti/Roti)
Method
Heat the oil in a heavy based pan and add the cumin and mustard seeds
Add the onions to the pan as soon as the seeds start spluttering
Fry the onions until golden brown then add the garlic and ginger pastes
Sauté for a couple of minutes before adding the turmeric. You should now have a slightly sticky mixture
Add the tomatoes and green chillies and turn the heat up a little and cook until the moisture from the tomatoes begins to evaporate
Add the remaining dry spices and salt and cook for another 5-6 minutes
Now add the washed prawns and bell pepper, coating with the tomato mixture and stir fry for a couple of minutes
Add half a cup of water to create a slightly runnier gravy – optional.
The prawns will be ready quite quickly if you are using cooked prawns so do not overcook or they will become rubbery
Heat the oil for deep frying the Puri in a deep pan or karahi (wok)
Taking a ball of the chapatti dough, roll out a thin roti, drop a tiny piece of the dough into the oil and if it rises to the top quite quickly your oil is ready to fry the Puri
Taking the roti in both hands by the edge, gently slide it into the hot oil – taking care not to get splashed
Once the Puri begins to bubble up on one side turn it over gently using a slotted spoon and allow to cook on the other side. Each Puri should take about 30/40 seconds to cook on each side
Drain and serve topped with the Prawns and garnished with fresh coriander