Moth beans cooked in warming spices
Motha di Dal (Moth pronounced Mawt) or Matki or Dew beans as known in English is a legume that makes really flavourful dals and soups. The beans have a nutty flavour and as they cook down they release a creaminess which makes a very heart-warming dish especially when cooked as I have in this recipe. The flavour of the spices and fresh ginger and garlic work so well together, making it a comforting dish – a dal cooked often in my home during the cooler months.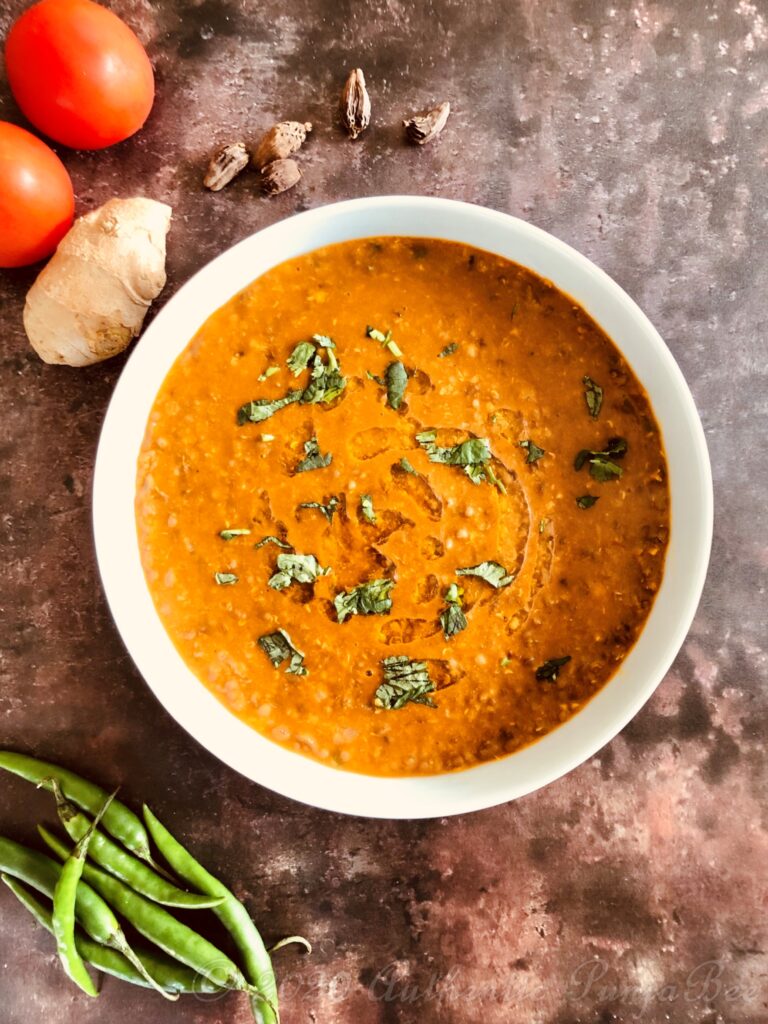 My Dad was an avid gardener – our summer meals growing up were mostly cooked from his crop from the garden. Spring onions, garlic, potatoes, carrots, coriander, chillies, peas, mint, radishes, moongre (radish pods) you name it, Dad grew it. I loved going into the garden to pick the mint for chutney or coriander to garnish the evening meal. He loved his garden and would spend every dry day out in it, every evening he'd be there with the hosepipe watering his pride and joy. He kept one side for his rose bushes and the rest was vegetables. His skin would go from white to red and then a golden brown in the summer sun. By the end of the summer he would look like a Greek gentleman – silver hair and golden tan. He'd work outside in a white vest on really hot days and when he took it off he would have a vest shaped tan which would make us all laugh.
He took so much pride in his appearance, shaved every day with his little brush and shaving cream and his razor which he called his 'safety', brushed his hair back with a slick of Brylcreem, a hint of Old Spice always lingering in the house when he was getting ready to go out, and he always dressed in a shirt and trousers – half sleeved in the summer, polished his shoes every weekend, and wore sandals during the warmer months. He was very regimental in everything in his life, what he learned in the army saw him through the rest of his days – waking up at 3am to pray, set meal times, and bed time, everything was regimented. He also took great pride in his culture and his roots. He still followed a lot of the old Punjabi customs from his own childhood and one of those was never to eat at his sisters or daughters' marital home unless he was invited to by her parents in law. This is very old school thinking for some now, but Dad stuck by that rule. As the girls don't 'supposedly' contribute to their parents homes, the parents don't feel it is right to take from them when they are married. Girls were always looked at as 'paraya dhan' – meaning from birth until marriage they were 'guests' at their birth home. He was also of the thinking that you never take from your girls – you only give to them, which is still customary in many Punjabi families even now.
However, if the boot had been on the other foot – and my mother in law turned up at their door – my parents would usually drop everything to tend to her. Times have changed and living outside of the Punjab means people have had to change too. If Dad was alive now I know he would be very disappointed at the way some of our customs have been dropped by the wayside….
I am sure you have gathered by now that I can talk about my Dad forever – he was such a wonderful man – husband, father, brother, son-in-law, uncle, grandfather – the list goes on. There was no role that he didn't carry out to his full potential. I don't say this just because I am his daughter, his actions spoke for themselves, which I discovered after he passed away. The stories we heard about his good deeds and how many families he had helped when they left the Punjab to come here after he passed away, were so beautiful and made our hearts fill with pride and happiness making the family's grief easier to bear. This was OUR Dad they were talking about.
So long story short – Dad was over helping my husband prepare our garden for a crop of vegetables and we insisted he ate lunch with us that day as he was planning to go home to eat and then come back and finish the job ~ we lived on the same road and yes I literally married the boy next door. I made a quick Motha di Dal and after much begging and pleading, Dad sat with us and ate his customary 3 roti's, with no butter, and a little bit of red onion salad and mango achaar with my little family. That was the first and last meal he shared with us in our home – and one I will always remember with great fondness. Dad broke the rules and ate at my house!!
Don't forget to follow me on Instagram and Facebook under @the_authentic_punjabee_ for new recipe updates!
Ingredients – Serves 4
1 cup of Moth Beans soaked for 4 hours in cold water and then rinsed in 3-4 changes of cold water
1 litre of water to cook lentils in pressure cooker
1 tablespoon of oil or ghee
1 small stick of cinnamon
1 teaspoon cumin seeds
1 medium sized diced onion
1 heaped tablespoon of garlic paste
1 heaped tablespoon of ginger paste
3 to 4 chopped chillies or to taste
1 tablespoon of tomato puree or 4 medium chopped tomatoes
1 teaspoon of garam masala
1 teaspoon of salt
Handful of chopped coriander leaves
Method
Cook the lentils in a pressure cooker for 12 minutes from whistle
They should become a creamy consistency (see video on instagram)
In a frying pan, temper the cinnamon and the cumin seeds in the oil until they begin to sizzle
Add the diced onion and fry until turning brown
Stir in the garlic and ginger and sauté for a couple of minutes
Now add the turmeric and cook for another minute – add a little water to loosen up the mixture if required
Add the tomato, green chillies, garam masala and salt and stir thoroughly, cooking on a medium heat until the oil rises to the surface of the pan
Add this mixture to the cooked lentils, add two cups of boiling water and bring to the boil with the lid off the pan
Now turn the heat down to low and simmer until you are happy with the consistency of the dal (some like it thicker than others)
Garnish with a drizzle of ghee or a few knobs of butter (vegan butter) and the chopped coriander
Serve with rice, roti or a tandoori naan