Malai Chicken Kofte are the healthy alternative to Lamb Kofte. When I lived in Cyprus, I found chicken mince a lot easier to source than in the UK, but since returning I have found it is available in a lot of the major supermarkets now. You can of course, buy chicken fillets and then mince them yourself using the mincing gadget on a food processor or by using a sharp knife. My husband is very health conscious and prefers the chicken to the lamb alternative. This recipe includes a splash of cream, which is totally optional – but it does give the dish a hint of decadence.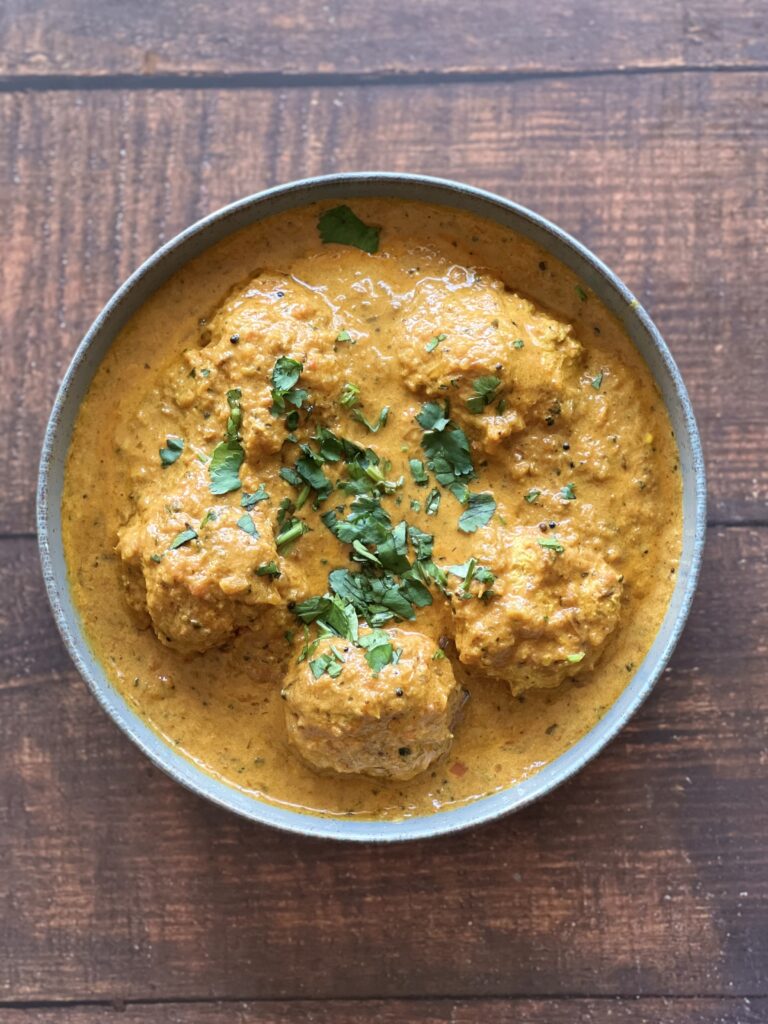 Kofte Ingredients – Serves 5/6 people
500g chicken mince
1 heaped tbsp ginger/garlic paste
1 tsp cumin powder
1 tsp coriander powder
1 tsp red chilli powder
1 tsp garam masala
1 tsp turmeric
1 tsp salt
Method
Combine all the ingredients, shape into golf ball sized balls and cover and refrigerate until required
Keep them rustic – they don't need to be perfectly round
Sauce Ingredients
Half tbsp oil
2 inch cinnamon stick
4 or 5 green cardamom
1 dried red chilli
1/4 tsp black mustard seeds
1 tsp cumin seeds
2 medium onions very finely diced
2 tbsp garlic/ginger paste
1 tsp turmeric
220g plum tomatoes – pureed
3 green or red chillies finely chopped – optional
1 tsp red chilli powder
1 tsp kashmiri chilli
1 tsp coriander powder
1 tsp salt
1 tbsp double cream
Handful of coriander leaves to garnish
Method
Heat the oil on a low heat in a heavy based pan
Add the cinnamon, cardamom and dried red chilli and then add the cumin and mustard seeds
Once the seeds begin spluttering, add the onions
Sauté the onions for 8-10 minutes on a medium heat
When the onions begin to change colour add the garlic/ginger paste
Once you have cooked off the raw smell of garlic add the turmeric and sauté for 2 mins
Pour in the tomatoes and green or red chillies if you are using them
Cook for 8 minutes on a medium heat adding the red chilli powder, kashmiri chilli, coriander powder and salt, add a little water to loosen up the sauce if you think it's too dry
The tomato mixture is ready when you no longer have a watery edge and the oil has come to the surface
Turn the heat to very low and remove the meatballs you prepared earlier from the fridge
Add to the pan, one by one then cover the pan and leave to cook for 12 minutes
Remove the lid and turn the meatballs once, cover and cook for a further 12 minutes
At this point your dish is ready – you can keep it as it is and finish with fresh chopped coriander leaves, or you can add the cream and stir in gently, and then add the coriander
Serve with roti, naan or rice
You can find me on all social media channels under The Authentic Punjabee.
Facebook / Instagram / Tiktok / Youtube