Okra fried in onions and light spices
Okra – also known as Ladies Fingers is available between December and June where I live – and I make sure we make the most of that availability, as any time I make a Dal the faces around the table look at me eagerly with the expectation of 'Bhindia' as we call it in my home as they know that's the only time I make it. It goes really well with Masara di Dal or Dal Makhani and it's a light, fresh and really tasty vegetable. I prefer to stir fry it initially and then finish it off by steaming it with the lid on over a low heat. It's best not to over spice it as the flavour of this vegetable works really nicely with the sweetness of the onion and the slight heat from the ginger whilst the lemon juice keeps it fresh.
Okra is like marmite – you either like it or you don't. However, once you have tried this particular recipe you will be liking it. It shouldn't be overcooked – you want it to have a 'bite' to it, not mushy or slimy. Unfortunately, that is a common trait of this particular vegetable – but I have a trick that will ensure you can cook this dish without any slimy residue. When buying fresh Okra look for a bright green colour and the firmer it is the fresher it is. It's sold as a vegetable, but it is technically a plant as it contains seeds which are edible.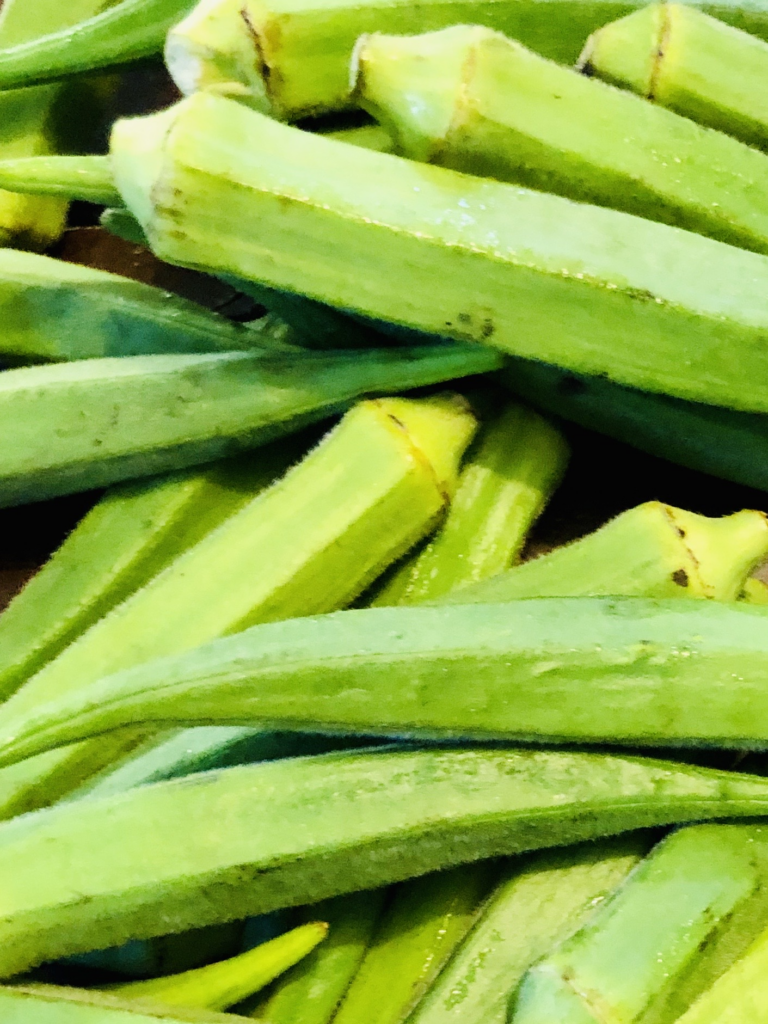 TIP – Before you cook it – soak it in water with a couple of tablespoons of vinegar – it doesn't matter which type of vinegar – for 30 minutes or so. Then wash thoroughly in 3 – 4 changes of water and pat dry with kitchen paper. Then top and tail and cut into 2cm pieces. Be sure to let me know how your Bhindia turned out.
Ingredients – preparation – 20 mins – cooking time – 30 minutes
2lbs okra prepares as above
2 tablespoons of oil/ghee
1 teaspoon of cumin seeds
2 large onions sliced
5 cloves of garlic minced
2 inch piece of ginger minced
3 green chillies finely chopped
Juice of half a lemon
1 teaspoon turmeric
1 teaspoon salt
1 tablespoon of tomato puree
½ teaspoon garam masala
Method
Heat oil in a lidded wok or deep frying pan and add cumin seeds
Once the seeds start to sizzle add the sliced onions and fry on a medium heat until slightly golden in colour
Add the minced garlic and ginger and fry until you get the aroma from the garlic
Pour in the lemon juice and stir in the tomato puree
As soon as you see the oil rising to the top of the mixture add salt and then gently fold in the pieces of okra and the green chillies
Stir fry on a medium heat for a couple of minutes then cover and cook for 15 minutes on a low heat stirring every now and again
Uncover and add the garam masala, stir well and cook for a further 10 minutes.
Your Bhindia are ready to serve – and no slime!!