Crispy, fluffy, roti stuffed with spiced potatoes
Paratha is a very popular Sunday breakfast, brunch or lunch in the Punjab – and it is rated highly on the list of favourite breakfasts for my family too. Aloo Paratha in particular is a very popular choice – the crispiness of the roti which is stuffed full of spicy potatoes is a great way to start a Sunday, although nine out of ten times – you will usually see members of the family crashed out on a sofa following the double carb hit, which is why they are welcome only on a Sunday.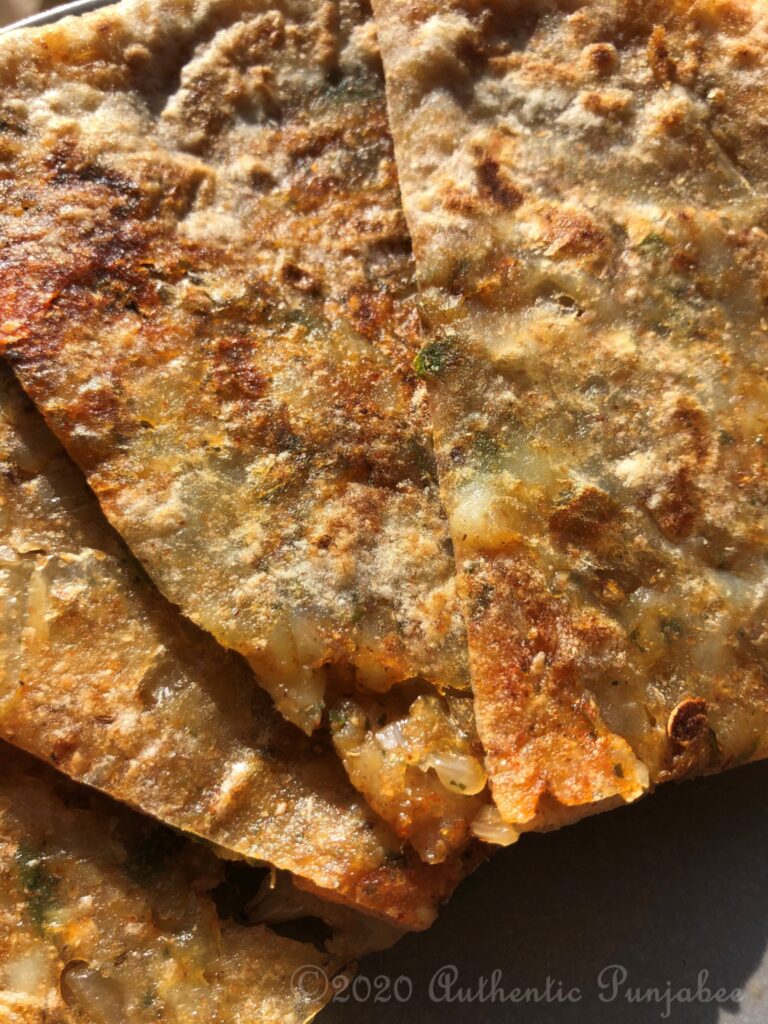 They were also a family favourite when I was growing up – always on a Sunday. However, when my own children would spend time at my parents place – they would be offered them any day of the week. Grandparents are certainly good at spoiling the grandchildren!
In the Punjab they are brushed with ghee and served with Makhani which is a home-made white unsalted butter. I serve it with fresh home made yoghurt and mango or chilli pickle. If you would prefer the vegan option – then stick to brushing with oil and serve with a vegan butter or yoghurt – it doesn't impact the taste in any way at all.
Don't forget to check out the video you will get a better understanding of the process before you attempt – and like and subscribe to my YouTube channel – under AuthenticPunjaBee and please follow me on Instagram and Facebook under @authentic_punjabee for new recipe updates
Ingredients – preparation time 20 mins once potatoes are boiled – cooking time – 30 minutes
Dough made from 2 cups of chapatti flour – see recipe for roti
4 tablespoons of oil or ghee
2 large potatoes boiled in their skins then grated while still warm as this keeps the potato fluffy and it doesn't get sticky
1 large onion diced
1 heaped tablespoon of grated ginger
Green chillies to your taste
1 tablespoon ground coriander seeds
¼ teaspoon ajwain seeds (carom seeds)
1 teaspoon cumin powder
1 teaspoon of salt – add to taste
Juice of half a lemon
1 teaspoon of garam masala
1 tablespoon of methi (dried fenugreek leaves)
Half teaspoon kashmiri chilli (optional)
Half teaspoon chaat masala
Method
Prepare your dough, adding water gradually until you get a firm but smooth dough. Cover and set aside
Add all the above ingredients to the grated potatoes and mix well
Warm the tawa (griddle pan on a medium heat)
Take a ball of the dough and roll out a roti the size of a saucer or side plate – do not roll it too thinly
Take a handful of the potato mix and place in the centre of the roti
Gather the edges of the roti and create a sack around the potatoes
Trim off any excess dough from the top of the sack
Shape into a ball and flatten slightly, pressing on both sides into dry flour
Thin the edges if you can – see video, alternatively start rolling out carefully – keeping all edges of equal thickness
Keep rolling until your paratha has increased in size and is not too thick
Place carefully onto your warmed tawa
Flip over once the paratha has changed its colour all over
Brush with oil and flip over again
Brush the other side with oil and keep flipping, frying it evenly on both sides
Once the paratha is golden and crispy on both sides remove from tawa onto a warmed plate
Serve with a knob of butter, fresh dahi (yoghurt) and a pickle of your choice