Japanese Aubergine cooked with potatoes and spices
Aloo Baingan Sabji is a firm favourite in my list of great vegetarian recipes. I love the way the aubergine soaks up the flavours of all the other ingredients in the pan, the warmth of the spices and the slight tartness from the tomato, and with the added combination of the slightly overcooked creamy potatoes it becomes quite a delectable dish. The aubergine I use in this particular dish is the Japanese style long ones.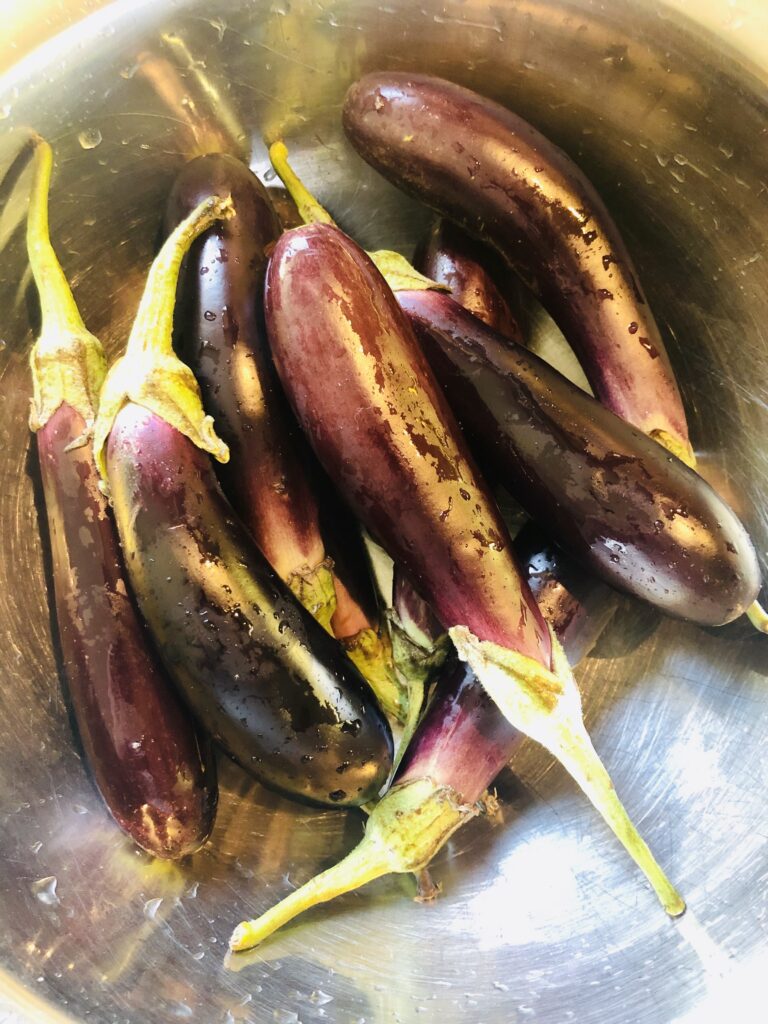 Whilst I am writing all this I begin to lull myself into this little stupor – I love the way certain ingredients work together to produce the most amazing flavours – and also with the knowledge that the dish is healthy, can be adjusted to the vegan palate as with a lot of my vegetarian dishes, so it's a winner all round.
Then the record comes to a screeching halt…..aubergine!?! That slimy stuff!! Yes – that's the one! I am aware a lot of people step away from this beaut of a vegetable – but I promise you (again) that once you try it, you will definitely eat it again. And again.
Don't forget to check out the video below and like and subscribe to my YouTube channel – under AuthenticPunjaBee and please follow me on Instagram and Facebook under @authentic_punjabee.
Ingredients – Serves 4
10 Japanese aubergine, washed and sliced in half (remove the stalks)
2 large potatoes peeled and slices lengthways
1 tbsp oil or ghee
1 teaspoon cumin seeds
1 teaspoon black mustard seeds
½ teaspoon fennel seeds
2 medium onions thinly sliced
1 heaped tbsp of garlic paste
1 heaped tbsp of ginger paste
Minced green chillies to your taste
2 tbsp tomato puree
1 teaspoon turmeric
1 teaspoon kashmiri chilli
1 teaspoon salt (or to your taste)
1 tbsp of dried fenugreek leaves
½ a cup of boiled water
1 teaspoon garam masala
Handful of roughly chopped coriander leaves
Method
Heat the oil/ghee in a wide pan or wok with a lid
Add the cumin, mustard and fennel seeds and allow to sizzle point
Stir in the sliced onions and fry until almost golden
Add ginger and garlic paste and fry for a few minutes
Stir in the turmeric, then add the tomato puree and chillies and keep frying until the oil comes to the surface
Add the kashmiri chilli, salt and fenugreek and mix well
Stir in the potatoes and add the boiled water
Cover and cook for 20 minutes on a low heat
Stir in the sliced aubergine ensuring it is coated with all the other ingredients in the pan and cover and cook for a further 25-30 minutes stirring regularly
Sprinkle on the garam masala, stir again and mash the aubergine up a little, then cook for a further 10 minutes or until the aubergine is cooked through
Garnish with the fresh coriander and serve with a fresh roti or naan or even toast!